BrickCrafts was a really fun project to work on. As a company that creates products entirely composed of LEGO's, there was no doubt this wrap would be bright, charming, and undeniably share-worthy.
Designs That Stack Up
During the design process, our designers recreated each and every LEGO, the logo, and added some incredible effects. Creative Director Brandon Antol told us just a little about the project, "Since BrickCrafts creates all of their products out of LEGO's, I thought it would be appropriate, as well as just an eye-catching design touch, to sort of "reconstruct" their logo out of 3-D rendered LEGO graphics."
"After many hours of meticulous design work, making all of the LEGO's lock up and getting the colors to work together in a dynamic layout, it still didn't seem over-the-top enough so we decided to just start pulling a bunch of the LEGOs apart and juxtaposing a few of them here and there, giving it the feeling that they are in motion. This seemed to complement the "tearing away" effect towards the front wheel wells and bumper of the vehicle and gave the design the off-the-wall look we were going for."
Proper Printing Processes
Of course, the colors of the LEGO's on the wrap had to be accurate as well. Owner and Operator Mark Johnson takes his vehicle to conventions across the nation, where the likes of the attendees would be sure to notice if it was anything less than authentic. When it came time to print, our G7 Master Certified production team matched the color of the LEGO's with the final color of the vinyl in a color management process.
Building a Brand One Lego at a Time
Our creative team of designers took a vision and turned it in to an advertising machine for this unconventional company. Mark was extremely pleased with the final results of the wrap.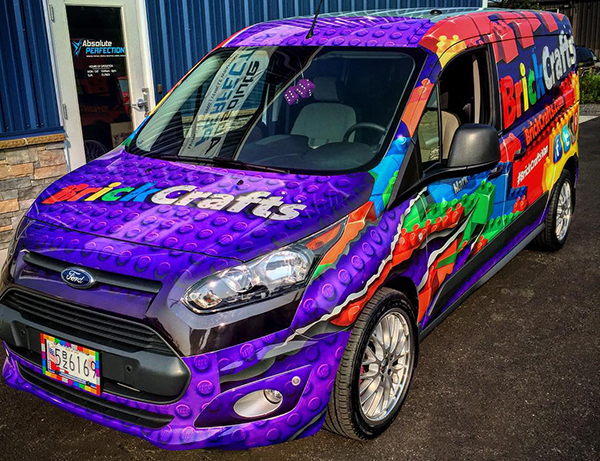 Build Your Own Brand
Are you looking for a way to grow recognition of your company brand? A vehicle wrap is a great way to go. With an incredible design team, G7 Master Certified printing and color management processes, and 3M Certified installers with a climate controlled facility, what more could you ask for in a vehicle wrap company?
Call us today at (866) 390-6790 or fill out a contact form for a FREE Quote on your very own advertising vehicle wrap!