Creating an amazing wrap for our customers that blows them away has to be the best thing we do. A close runner up though, has to be winning first place at the USSC International Vehicle Wrap Master Competition once again! Our Pokémon Mobile Capture Unit stole the show.
United States Sign Council (USSC) is the world's largest association of independent sign shops. Their Sign World International Convention in Atlantic City has over 3000 attendees from all over the US as well as globally. During the December 2016 convention, USSC held a Vehicle Wrap Contest. Absolute Perfection put our team forward and started planning for the 3 day live event.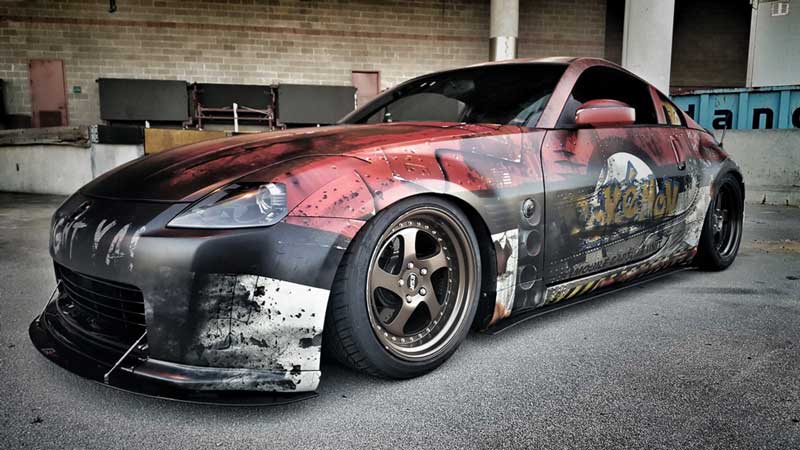 A Live Wrap
This wasn't just any event. Turning up with a car freshly wrapped in our air-conditioned bay wasn't allowed. We had to go all out and put on a show. Absolute Perfection does "all out" really well. We didn't hold back on our design and came up with a winning strategy with our Pokémon Mobile Capture Unit. Over the 3 days of the event, the wrap was applied to the car, live for the audience to watch and ask any questions.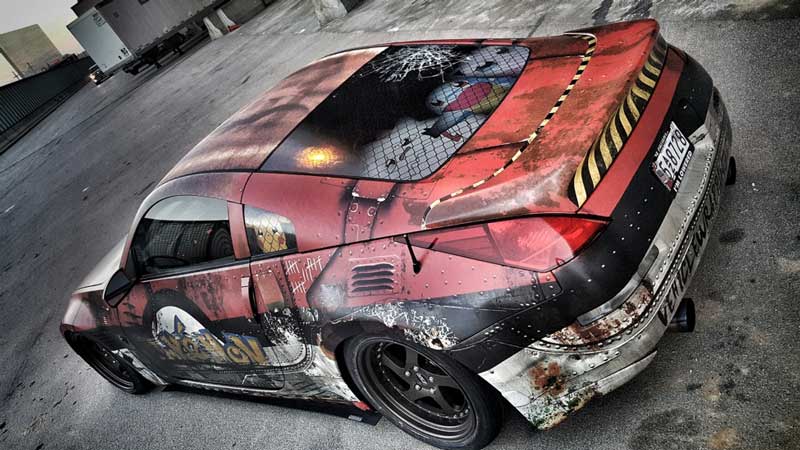 Chris Fong, VP of Commercial Graphics at AP, deliberated long and hard over the right design to use. "My design was inspired by the new Pokémon GO mobile app and my love for rustic and weathered wrap designs. I wanted my design to have a purpose and story so I incorporated the Pokémon Mobile Capture Unit idea. This vehicle spent years battling and capturing fierce Pokémon. Elements like claw marks and dents show the damage that the Pokémon did, and portraying them inside the vehicle using window graphics, shows that this vehicle's purpose is to capture them."
New Materials Bring Ideas To Life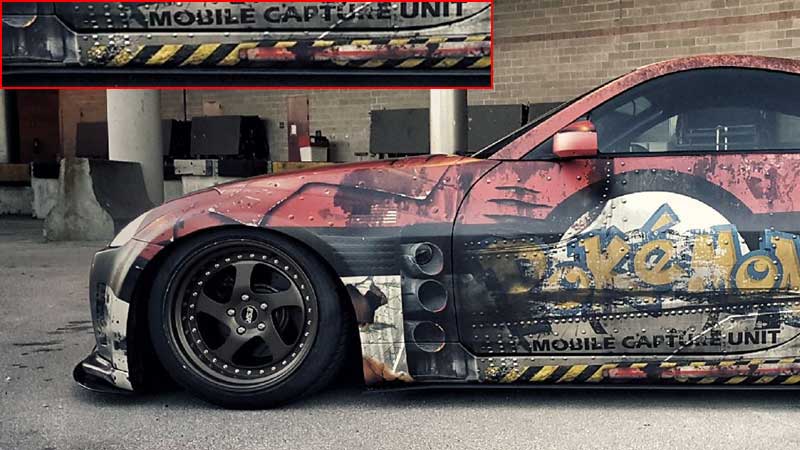 Chris integrated newly released vinyl into the design to create the look he wanted. With these materials, he could incorporate ideas he's wanted to try but lacked the right vinyl to make it happen. "I had an idea that I wanted to have LED lights glow under the vinyl." This is something Chris had never seen on a vehicle before. "In the past light strips have been too thick so you would easily see there was an object under the vinyl. I found a company that sells a LED light strip that's paper thin. With the 3M IJ180mC-114 or "transparent" vinyl, I could wrap over the light strip and have about 75% of the light source glowing through the vinyl. It worked perfectly."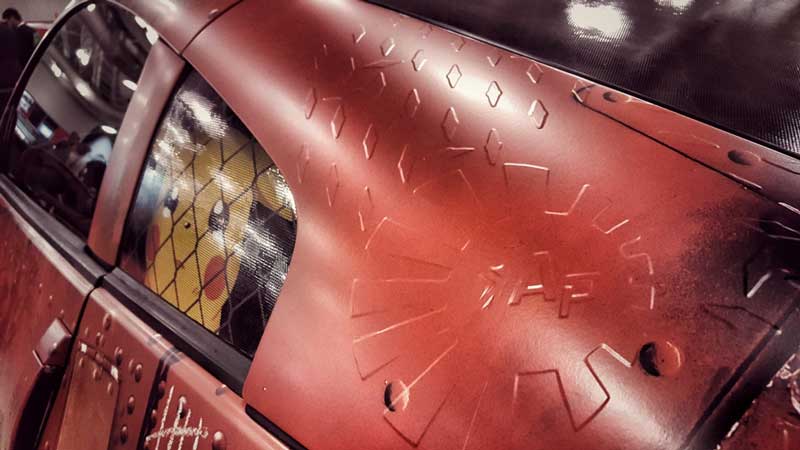 Two layers of vinyl were applied to create an embossed, semi-dimensional effect on the car. The underlying vinyl was a custom cut diamond plate design and the AP logo. "I picked a diamond plate design because it would work great with all the metal and bolts." By using a textured laminate for the roof, he was able to give the rust design more depth. "I visited junk yards and took hundreds of photos of rust, dents, broken glass, etc. I then brought it all together to create a design that has over 200 elements in it."

With the use of a new to the market 3M "Reflective" vinyl, Chris was able to incorporate a caution strip into the design, making the design elements more real and interactive. "Just like any emergency vehicle, when you are driving behind our Mobile Capture Unit, your headlines will reflect off the large caution sticker on the rear spoiler."
Nothing But Perfection
Going into the competition, Chris knew he had the winning design. "This installation is one of the best I've personally done." A master of perfection, every detail was attended to. "I expect people to spend a lot of time looking through the design so I wanted the wrap to look as if it was painted on.  There are no seamed panels, not one wrinkle, bubble, or rip.  And because this was done for a competition, we only had one shot to make this perfect."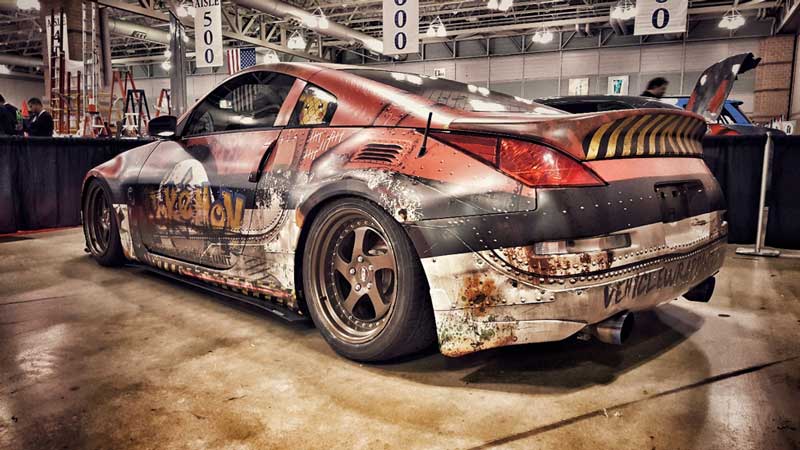 AP's CEO, Bill Valway and Vehicle Wrap Installer Tom O'Malley helped Chris with the installation on competition day. A marathon 12 hours were spent putting the wrap on, which required precision planning to make sure every piece (of which over 40 panels had been printed by our Production Manager, Brandon Kemp) were installed.
As winners of the competition, AP walked away with the grand prize of $3,000. "I'm so proud to have won but more importantly, to have the opportunity to showcase my skill and passion.  And thanks to the support of my team at Absolute Perfection, we were able to create something that's new and fun for everyone to see."