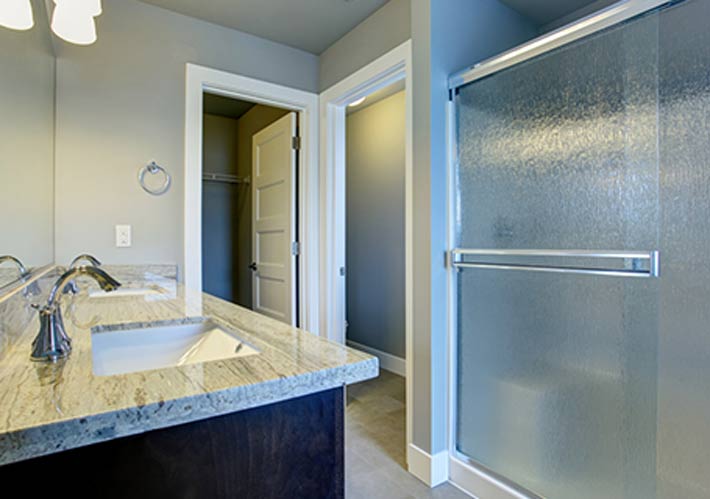 Looking for a little extra privacy in your bathroom? Or maybe you just like to the look and style of frosted windows? Regardless of your reason, if your current shower glass isn't the frosted look you desire you have options. Here's what to keep in mind with frosted shower window film.
Clear Shower Glass vs. Frosted Shower Glass.
The first consideration will be weighing clear shower glass vs. frosted shower glass. The main advantage to keeping your clear glass will be that it makes bathrooms appear larger and brighter. Covering up clear glass will lose these elements. That said, frosted glass is functional, private, and decorative. Frosted films also cover up water marks making them harder to see—which reduces maintenance needs.
Do I Need to Replace my Shower Glass to Get it Frosted?
No, don't replace your clear shower glass with a frosted shower glass. Having to replace your entire shower glass would be a major hassle. And the cost alone would be far too much to make it the right choice. Instead, look to a frosted shower glass film. Frosted shower glass films replicate the look and feel of frosted shower glass to the point where you literally will not be able to tell the difference.
What Options are Available for Frosted Window Film
Frosted window films are highly customizable. With countless design options, the only real limitation will be your imagination. In fact, you could take a photo of your bathroom and send it in to your local frosted window film company. Let your frosted window film design consultants recommend a unique design to fit your space and make it truly one of a kind.
Have You Considered a Custom Window Film Instead?
Not to throw you for a loop, but have you also considered your other options? After all, this is your bathroom so you can do what you like with it! There are a variety of custom printed window films which allow you to print directly on the film, so you can have any design you'd like with any color.
How Long Does Window Film Installation Take?
A major benefit to window film installations, aside from price, is their installation time. Window films are quickly installed in a matter of minutes over existing glass. Less down time means less time you must use the bathroom on the other side of your house. It also means the cost for getting frosted glass in your bathroom will be less because labor costs are lower, and materials cost less.
For more information on frosted shower glass films, get in touch with AP Graphics today. Here at AP Graphics we are the leading nationwide installer of window films and applied graphics. So, no matter what type of design or look you're going for, if it's on glass we can help you achieve your dream.