Window Graphics
Brand & Promote Your Business

---

In-House Design, Print & Install
Building Wraps
Larger Than Life Branding

---

Vinyl Wraps for Brick, Stone, Stucco, & More
Floor Graphics
Material For All Floor Types

---

Long-Lasting, One-of-a-Kind Advertising
Di-Noc Finishes
Maryland & DC's ONLY Certified Installers

---

Over 700 Finishes

---

Save Money & Reduce Waste
Frosted Window Film
Choose From Multiple Styles

---

Add Privacy & Elegance

---

Decorative & Functional
Wall Murals
Office & Retail Branding

---

Home Decorating

---

Product Advertising & Promotions
Vinyl Banners
Interior & Exterior Graphics

---

Vinyl Adheres to Any Surface

---

Permanent Without Permanent Damage
Trade Shows
Custom Trade Show Banners

---

Represent Your Company at the Next Trade Show

---

Vinyl Banners Make It Easy
Window Graphics
Make a good first impression with storefront branding and advertising that will turn heads and grab attention. Your windows are perfect for displaying promotions and introducing your brand to those passing by.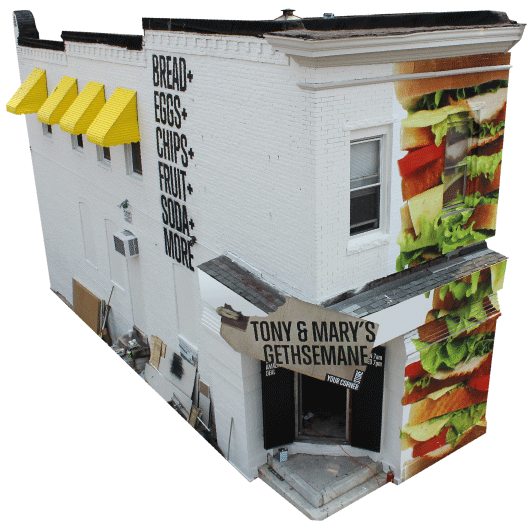 Building
Wraps
Wrap a little, or wrap a lot. Building wraps give you the freedom and flexibility to display your brand and promotions in a big way. Wrap your brick, stucco, stone, or concrete building with the finest 3M vinyl graphics from Absolute Perfection!
Floor
Graphics
Advertise from head to toe. Floor graphics will allow you to advertise in a unique way. Whether your floors are concrete, asphalt, carpet, brick, or something else, we can use it to advertise your brand!
Di-Noc
Finishes
Introducing DI-NOC Architectural Film, the inexpensive and eco-friendly way to remodel. With over 700 finishes ranging from wood grain and leather to brick and stone, you have the ability to change the entire appearance of a room at an affordable price.
Frosted
Window Film
Frosted Window Film is the perfect solution for adding privacy without compromising luxury. With the option of doing cut frost patterns, printed frost, or decorative frost, you have the ability to completely transform a room or building.
Wall
Murals
Promote your brand in the office, at your restaurant, in your store, or wherever the wall take you. Will wall murals, the ceiling is the limit. Take advantage of that white space and start promoting today!
Vinyl
Banners
Looking for another way to get the word out about your business or display a promotion that isn't quite getting the attention it deserves? Vinyl Banners is the way to go! With the ability to apply vinyl to brick, stucco, concrete, stone, and more, the options are endless!