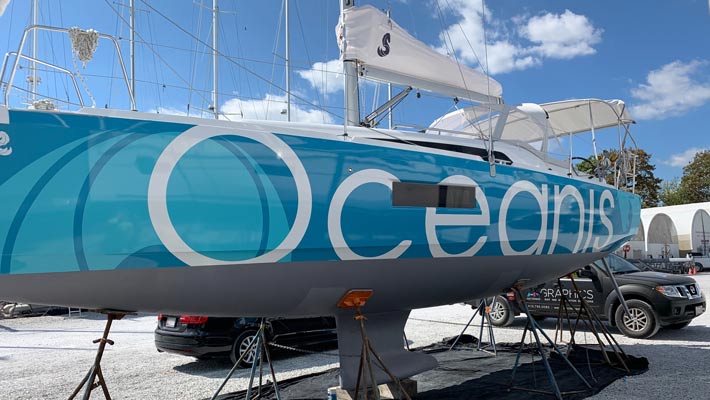 This sailboat wrap in Annapolis, MD was such a memorable project for us. Not only were we able to work with Beneteau, a prestigious sailboat company, we were part of the design of the wrap used during the debut of their Oceanis 30.1 at the 2019 U.S. Sailboat Show in Annapolis.
The Oceanis 30.1
This one of a kind sailing yacht was crafted by Beneteau. It is making its debut at the United States Sailboat Show on October 10th-14th in Annapolis, MD. Here's where you can read more on this unique yacht, offering "unbeatable living space for its size and a focus on simplicity of use, the smallest model of the cruising range is nevertheless stylish, and fast, with a highly competitive ready-to-sail price".
If you'd like to see it more in person—trust us, you do—it will be docked at F2, at the 2019 U.S. Sailboat Show, after sailing here from Poland.
A Unique Boat Wrap for a Unique Yacht
Our part in the Oceanis 30.1's debut at the U.S. Sailboat Show is it's custom hull wrap. Our team of experienced Annapolis, MD boat wrap installers and designers helped to craft a unique, one-of-a-kind boat wrap in Annapolis, MD sure to turn some heads. But that's not all it will do. Boat wraps are more affordable, install faster, come off without issue, and protect your hull.
The boat wrap on the Oceanis 30.1 is a custom boat wrap. It was designed using the Beneteau logo-mark and brand name to help create brand recognition during such a prestigious event. The wrap was printed on the highest quality 3M vinyl wrap using a gloss laminate. Here are additional photos of the installation and finished custom boat wrap in Annapolis, MD.
The October 2019 U.S. Sailboat Show in Annapolis
This prestigious sailboat show in October attracts sailors from across the globe. The United States Sailboat Show is an internationally acclaimed sailboat show, recognized as the world's most prestigious and largest sailboat show. Here's more on the show from the show's website:
"Boat show goers will enjoy the unique opportunity to board and inspect new models from virtually every major sailboat manufacturer, make side-by-side comparisons, talk to industry representatives, and see the latest in boating products and services. Come enjoy a day of exhibiting, shopping, drink tastings, and live entertainment!" – The Annapolis Boat Shows Website
About AP Graphics, the Annapolis, MD Boat Wrapping Experts
As the top-rated Annapolis boat wrapping service, AP Graphics has completed a variety of boat wraps in Annapolis and Nationwide! We've serviced the nation's top fleets and boat enthusiasts with turnkey, worry-free, 3M-certified, boat wraps since 2000. For more information on our boat wraps, or to schedule a free consultation to determine if a boat wrap is right for you, get in touch with us today! Either fill out the form below, or give us a call at 866-390-6790 today!
Tell Us About Your Project
Are you ready to take the next step in your company's branding? Fill out the form below so we can reach out and discuss what you are looking for.
Looking for tinting services like commercial window films or home tint? Visit our sister company AP Tinting.