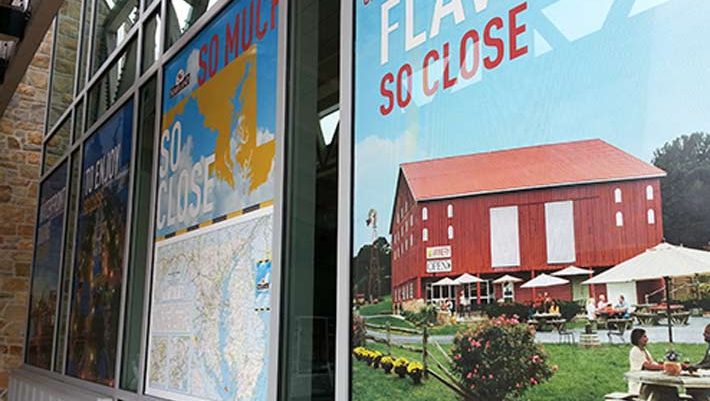 Ever see window graphics and think, "that can't just be a normal sticker"? You'd be right.
The adhesive window graphics used for most storefronts and businesses is not the normal run-of-the-mill adhesive stickers. It's also not like the static-cling stickers you see during Halloween every year. The types of window graphics you see are a unique type of adhesive-backed vinyl window film crafted for long-term durability and vibrancy.
The Different Types of Window Graphics
In the window graphics industry, there are multiple different categories or types. Most window film companies will group them into these main categories which we will go into more detail on later…
Perforated Window Film
Printed UV Window Film
Frosted Window Film
Decorative Window Film
Perforated Window Film: Window Stickers with Tiny Holes
Perforated window film is largely popular among corporate building windows, store-front windows, and even car windows. Its unique design allows visibility from the inside, but on the outside you only see a graphic, as clear as day. This is due to a matrix of tiny holes across the design which let you see through the design.
UV Window Film: See-through Window Graphics
Custom printed UV window film lets you apply a complete graphic to any window. This type of window film is unique in that it can offer an opaque effect where the design can be completely see-through or partially see-through. What's really cool is this film also protects those inside by filtering out harmful UV rays.
Frosted Window Film: Window Sticker that Looks like Frost
Want the look and feel of frosted glass, etched glass, or sandblasted glass? Frosted window films offer you the same look of frosted glass but at a fraction of the price and without all the downtime during installation.
Decorative Window Film: Window Sticker You Can't See Through
This type of window film is a solid, privacy window film. It's much like a traditional sticker in that you cannot see-through it, unlike the previous three options. The main difference is that this is definitely not just a sticker. The adhesive used is stronger and the vinyl graphic applied to the window is durable to both scratches and fading from the sun.
How Are Window Films Applied?
Window films are applied much like a really big sticker. The big difference is that most high-end window graphics use a water-activated adhesive. To apply the window film, a window film applicator will clean the window, spray the window with a wetting solution, remove the protective layer of the graphic, and then lay the graphic onto the window. Once in contact with the window, the window film applicator must quickly squeegee out any excess water from between the film.