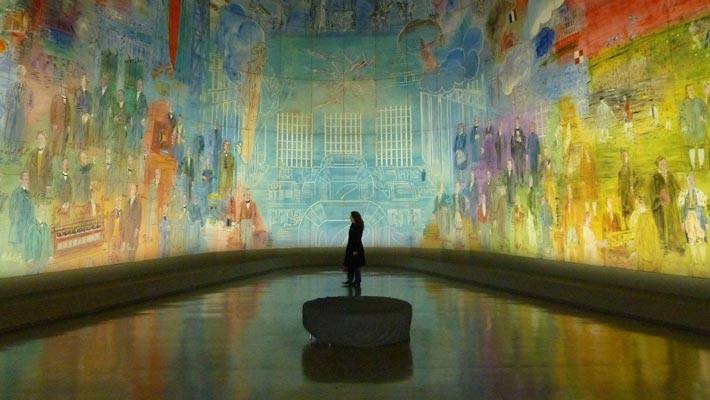 If you've shopped in any store during the holidays, you've experienced 'that feeling'. It's the feeling that you're part of something beyond just a normal shopping experience. Whether it's a massive entry display, decorations throughout the store, or a themed floor graphic which pulls you towards something. It's something beyond just plain white tiled floors and sterile lighting. This is, in a way, experiential graphics.
Experiential graphics are becoming increasingly popular with today's entertainment and hospitality destinations. But what exactly is this new form of large-format printed graphics? This article will explain the purpose of these graphics and help you evaluate if it is an option for you!
The Definition of Experiential Graphics
These graphics are exactly how they sound: graphics you experience. They are displays or environments which engage the visitor and communicates a message or feeling. They can be used at trade shows with a creative trade show display, outdoors with a public art installation, or even in the office with wall murals. For businesses, these can include branding on your walls, windows, etc. in an immersive way that gives your customers an experience.
Where are Experiential Graphics Used?
Commonly, these graphics are designed to guide visitors to take an action. Much like a website is designed to get the reader to fill out a form, experiential graphics guide the visitor towards the desired action.
Airports use unique graphics to control the flow of human traffic while directing people where they need to go.
Museums depend on experiential graphics to give their visitors a fully immersive and guided learning experience.
Businesses use experiential graphics to creatively advertise their brand and encourage customers to return.
These graphics are more than visual aesthetics—they set the tone and mood of an entire room.
How Can I Use These Graphics?
So, how can you turn your space into an experience? Let's get creative. Consider what your typical visitor wants to get out of the exhibit; put yourself in their shoes. Here are a few ideas to help brainstorm the way to build out the experience of your space:
Is the goal direction? Direct people using wayfinding graphics in the form of footprints on the floor.
Is the goal education? Creative add in some information within the design to help people learn while experiencing.
Is the goal convenience? Have your design force visitor's attention in key areas for more convenience.
Is the goal storytelling? Try to make your brand come through with matching color, fonts, elements, and more.
Once you pinpoint your goals, an AP Graphics designer can assist you in planning the appropriate designs, systems, or technologies needed to fulfill your desires.