The 2013 Ford F-350 is the penultimate truck in Ford's Super Duty line that has been manufactured for nearly 15 years now. The line was redesigned as of 2011, and is in its third generation currently. While the F-150 has a variety of uses for the average driver, the F-350 Super Duty line has always been intended for heavy duty commercial work, and has a competitive towing capacity of 21,600 pounds. Its characteristic looks are accentuated by an en vogue grill, which dominates the front view of the truck. Though few changes have been made for the 2013 model, Ford has introduced an exciting, and arguably necessary, new trim level, the Platinum edition.
An Extremely Customizable, Modern Interior
The great advantage for 2013 Ford F-350 customers is the availability of high-end tech packages available in the newest trim level, the Platinum edition. With this premium edition of the beloved Super Duty truck, the F-350 comes standard with some excellent add-ons, including a backup camera (a real necessity on such an immense vehicle), a navigation system, USB and SD card inputs, and MyFord Touch – a touch screen entertainment system designed exclusively for Ford vehicles. However, many of these add-ons are also available in some of the four other F-350 trim levels. The Platinum and King Ranch trim levels are only available with crew cab seating, and buyers may choose from a 6 and three quarters foot bed, or a full-length eight foot bed. Premium leather seating, with a heated steering wheel and walnut accents round out the "platinum" experience.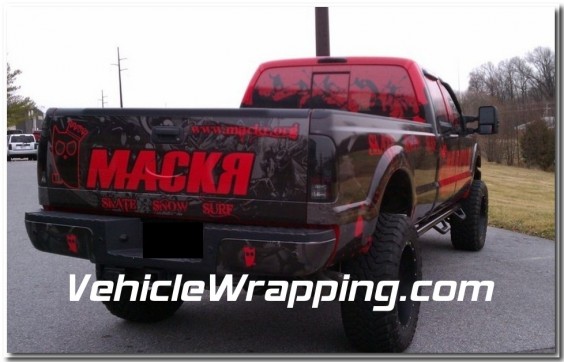 Upgrade to the Platinum Exterior
Where the Platinum level Ford truck trim really distinguishes itself is in the use of chrome on the vehicle's exterior. A satin, dual mesh bar front grill and 20-inch platinum cast aluminum wheels are standard in this elite trim, and so are chrome tow hooks, door handles, and an exhaust tip. While some might find these additions garish, chrome adds an ultra-modern touch to the menacing-looking Ford Super Duty F-350 Platinum. The Platinum trim level sports a starting MSRP of $53,855 US dollars according to Ford's website, though the available 6.7L Power Stroke V8 Turbo Diesel engine and four-wheel drive options can push the price well past $60,000. For the ultimate truck, upgrades to 18 and 20 inch tires are also offered.
If you can't afford to purchase the platinum trim or want to adorn the premium trim levels further, consider the wowing effect a vehicle wrap can have on such a large truck. Not only that, but a vehicle wrap is the perfect way to advertise your business in big, bold lettering. On the Ford F-350, your company logo, website, and other information will be hard to miss. Advertising can make or break your business, so consider this effective treatment.
Final Thoughts on Ford's Latest Super Duty
If you need the most power for hauling or towing, the 6.7-liter turbo-diesel V-8 engine is very comparable to the Chevy Silverado turbo-diesel engine, and actually exceeds it slightly in terms of overall horsepower and torque. However, the 2013 RAM 3500 bests both trucks in terms of towing capacity and torque, though it has a modest decrease in horsepower. Ford trucks are known for their general reliability, but this upper echelon model does not run cheap. Some of the top trim interior features, like the LCD touch screen and rear view camera, are add-ons that should really be standard for most or all trim models. Nevertheless, prices are pretty much the same for the F-350 and its competitors. You get what you pay for – we would definitely recommend upgrading to at least the King Ranch if you can swallow its hefty price tag.
If you need to ship your F-350 to another state or even overseas, you may be able to save money on these services by comparing quotes from different auto transport companies. After you find out how much you can save, compare shipping quotes at CarShipping.com to find out further details about the auto shipping process.