You've already considered your options and realized that vehicle wraps are the most effective and affordable way to market your local business. You've made the investment and finally get to see your newly wrapped truck for the first time. Man it looks slick! All glossy and new with colors that leap off the vehicle. There's no way a potential customer is going to miss you.
The question now – How do you keep it that way?
The last thing you want a year from now is a dull wrap that is too blurry to read. Listed below are a few practical and easy to follow tips to maintain and protect wrapped vehicles.
Keeping It Clean
It is no secret that all vehicles require maintenance in order to stay in peak condition. From regular oil changes to wheel alignments, keeping track of it all can be a bit daunting. For those with vinyl wraps, the task of maintaining that glossy shine doesn't require any drastic measures.
One of the best ways to care for your truck's vehicle finish is to clean it regularly. Getting rid of the grime, dirt, dust, and other contaminants such as bird poop before they have a chance to adhere to the vinyl covering is all you need to do.
When washing, it is best to manually wash your vehicle rather than take it to a car wash that makes use of abrasive brushes and powerful jet sprays that can peel off or damage your wrap.
It is worth the extra time to hand wash your truck. Make sure to use a soft cloth to avoid scratching the surface of your wrap. When it comes to detergents, always go for chemical-free and alcohol-free options that are easier to rinse off and won't damage the exterior. Ask your installer for recommendations.
Keeping It Shiny
As wrapped vehicles need to stand out while being driven around town, they need to be frequently waxed and polished to keep their luster.
Wrapped vehicles are shined the same way you polish any vehicle's surface. The only difference is that the vinyl is easily damaged by abrasive polishes. Again, ask for the latest advice from your installation company so you know what to use and avoid.
Keeping the Colors Vibrant
Sun exposure hastens the deterioration of the vinyl images, which is why it is important to keep your vehicle shaded when not in use. If you have an open parking space then cover your van or truck with a thick cloth to serve as a barrier against the unforgiving sun.
Extra Note on Windows
As a rule of thumb, it is always safer to avoid wrapping windows that are used frequently. This is the first point of deterioration for most owners.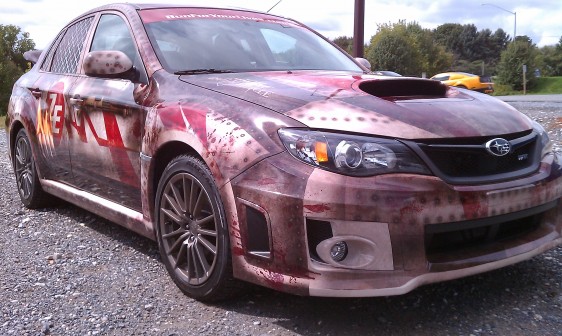 If you do have perforated graphics overlapping on your windows then you need to be extra careful when rolling down or cleaning your windows to prevent them from cracking or lifting off the surface. If there are areas slowly peeling off, make quick fixes using an adhesive or tape primer to glue them in place.
Expected Lifespan of Graphics
One other attribute you need to understand about vinyl graphics is that they have a limited lifespan of around 5+ years, depending on how you maintain it and on the quality of the materials used.
Proper maintenance will keep you vehicle wrap looking shiny and new for several years. Take the extra few minutes to clean the surface with a soft cloth and non-abrasive wax, and you will be turning heads everywhere you drive.
Jimmy is a writer for TruckertoTrucker.com, a website dedicated to helping business owners buy and sell commercial vehicles. You can follow us on Facebook or Twitter @semitrucks.