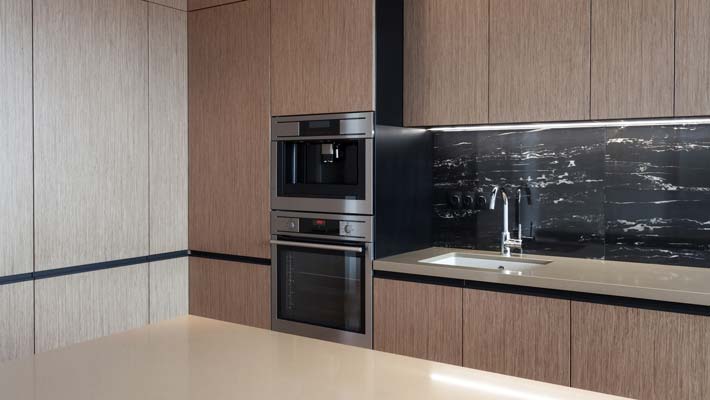 In the world of architectural film, 3M DI-NOC is a well-known product—and for good reason. But is DI-NOC the best product for all instances where you want to replicate the look and feel of wood grain? We look at the different possibilities and evaluate your best option for some of the more common uses of this type of installation.
First Off, What is DI-NOC?
DI-NOC is a premium adhesive-backed material which replicates the look and feel of hundreds of different types of building materials. In this instance, the pre-textured DI-NOC replicates wood grain with astonishing accuracy. Beyond just the look, DI-NOC is also a thicker material with surprising durability. The major reason DI-NOC beats custom printed vinyl is that it looks more realistic and is more scratch resistant.
How is 3M Printed Vinyl Different than 3M DI-NOC?
In comparison, 3M printed vinyl can also replicate wood in look and feel. When comparing looks, 3M's printable vinyl gives us limitless options for any potential style or grain of wood. This custom wood design can then be laminated with a wood grain laminate to replicate the textured look and feel of real wood. The main benefit of a printed vinyl is the complete flexibility in design as well as a major cost savings.
3M DI-NOC vs. Printed Vinyl for Interior Applications
If you're looking at an interior application DI-NOC is the way to go. This type of architectural film simply looks and feels like the real thing and its durability cannot be beat. This is especially important when looking to replace counters, cabinets, and other high-traffic interior surfaces.
3M DI-NOC vs. Printed Vinyl for Exterior Applications
If you're looking for an exterior way to apply a woodgrain lookalike, printed vinyl may be your best bet. 3M printed vinyl is rated for exterior use, and it is a much more affordable product. After all, anything used outdoors will be exposed to the elements, so using something which can last longer and not break the bank to replace is a no-brainer.
Other Considerations when Comparing 3M Printed Vinyl and DI-NOC
Some other major considerations when comparing these two products are their fire class rating and cost. With cost, custom printed 3M vinyl is going to be the more affordable alternative by a long shot. As for fire class, both are fire class 1 rated so there will be no benefit either way.
For more help in comparing your options, get in touch with your local commercial graphics company. Here at AP Corp, we are the leading commercial graphics company in Maryland, DC, Virginia, and nationwide. Fill out the form below and we will get in touch soon!