Absolute Perfection participated in Signs of the Times Magazine's 9th Annual Vehicle Graphics Contest after winning First Place for best food truck in 2014!
This year was no different from last year as we submitted some of our best work to be judged in multiple categories against 300 total entries, ultimately coming out on top!
Category:
Promotional Vehicles – 1st Place – Harbor Vapor (Best in Show)
Transit Vehicles – 2nd Place – Baltimore Ravens RV
Unique Vehicles – 2nd Place – Padma's Gypsy Van
Unique Vehicles – Honorable Mention – Bill's Epic Eats
Best In Show
We were thrilled to place in 4 out of the 7 categories and even earned a spot on the cover. Harbor Vapor, otherwise known as "The Vape Van," took the first place award in the Best Promotional Vehicles category.
This is the first time that Absolute Perfection has appeared on the cover for Signs of the Times Magazine, so of course our next goal is to do it again!
Creative Director, Brandon Antol designed the wrap using a rustic brick and wood look while incorporating the Raven purple and Oriole orange in the design of the logo. The brick and wood elements were actually inspired by some of the architecture in Harbor Vapors store.
One of the reasons we think the judges chose the Harbor Vapor design as the Best in Show is because of the many details in the design that you may not see unless you really pay close attention. Standing alongside of the Harbor Vapor Logo is a cigarette broken in half next to a large vape pen sending the message that vaping is in and cigs are out.
On the front door panel, you can see 4 e-cigs made to look like a hot rod exhaust system with vapor blasting out. Lastly, in the Facebook logo, the thumbs up is actually holding a vape pen, something Antol cleverly added.
Located in Fells Point, Harbor Vapor now has a custom vape van that hits home with the community and reminds thousands of potential customers that vaping is a better alternative to cigarettes.
Runner Up's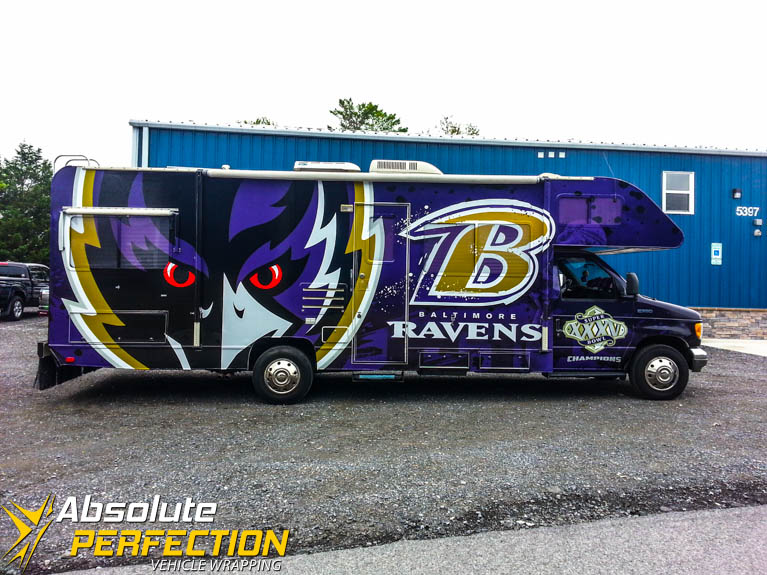 Absolute Perfection brought home 2 second place awards. The difficulty of the installation along with the flawless design is what made the Raven's Trailer win second place in Transit Vehicles.
Tony Seminic designed the trailer incorporating the red eyed Raven's bird logo while using other elements to create the ultimate tailgating vehicle. Adding white paint splatter around the bold B really brought the design together to stand out from the other purple vehicles you might see around M&T Bank Stadium on Sunday afternoons.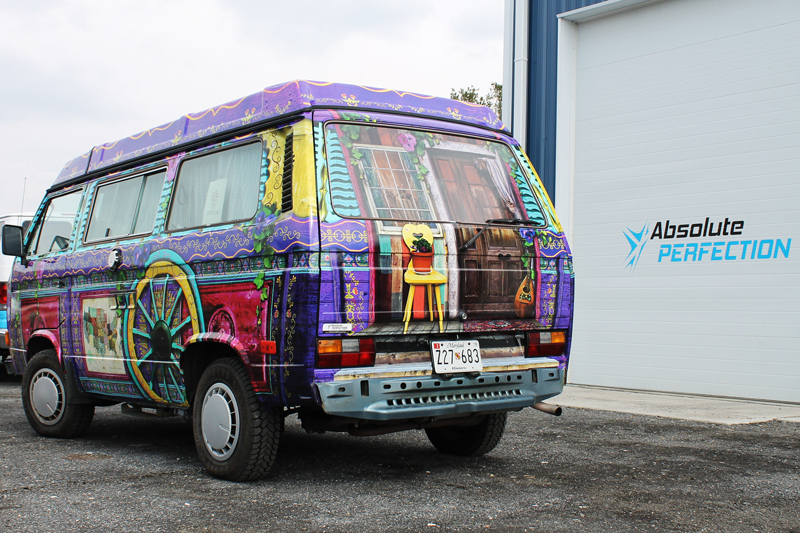 Our other second place award was for Padma's Gypsy Van in the Unique Vehicles category. This 1987 Volkswagen Camper was designed by Brandon Antol through the client's inspiration of a hand-painted gypsy theme. In order to make the design look like it had depth, Brandon had to use a custom blending pattern that had to be treated individually to each element.
Honorable Mention
Our fourth and last award won was Honorable Mention for Bill's Epic Eats in the Unique Vehicles category. Brandon Antol designed Bill's Epic Eats, a food truck that attends a wide array of middle school and high school sporting events.
Bill envisioned a vintage surf style food truck to personify his mobile brand. This idea evolved to incorporate a wood grain finish surfboard as the menu to add to the overall personality of the vehicle and experience when you stop by for a bite to eat.
Until Next Year
Absolute Perfection is proud to have won 4 awards in this year's Vehicle Graphics Contest. These awards would not be possible without the amazing designs created from scratch by our graphic designers, and the precise cuts from our installers.
We will continue to design, print, and install one-of-a-kind vehicle wraps for our clients and look forward to competing again next year.
If you're interested in working with our world-class designers on a vehicle wrap for your business, give us a call at 866-390-6790!