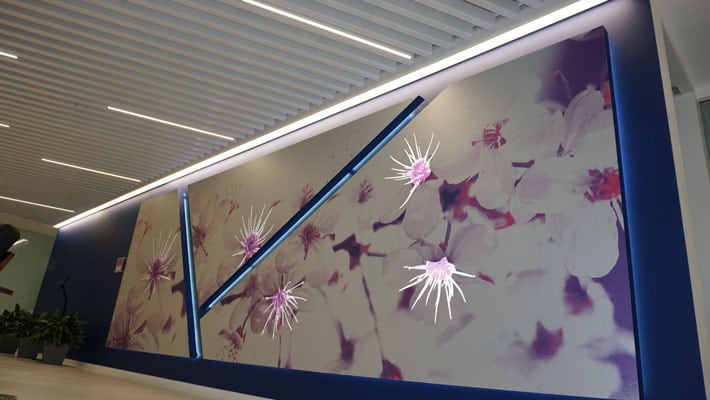 Have you ever seen a beautiful custom wall graphic and wondered how long one would last on the walls of your home or business? The exact lifespan of your vinyl wall graphic will depend on a few factors: the quality of both the product and installation, whether it is installed indoors or outdoors, and the type of surface your wall graphic is applied to.
Lifespan of Wall Graphics
While not permanent, properly installed custom wall graphics can last for many years before needing replacement. Due to their exposure to the elements, vinyl graphics installed outdoors have a significantly shorter lifespan. Outdoor wall graphics generally need replacement within three to five years. Indoor graphics can last substantially longer, anywhere from three to ten years – which is often as long as the design is wanted or needed.
Maximizing the Life of Your Wall Graphics
After investing in your custom wall graphic, you'll want it to look as amazing for as long as possible. Here are some basic care tips to keep in mind:
Avoid placing furniture and other heavy objects directly against wall graphics.
Clean spills and water off of indoor graphics quickly.
Prevent sharp objects and corners from scraping against the graphic.
Check your walls prior to installation for any signs of water damage or developing mold.
Follow your installer's care guidelines for cleaning, as some graphics can be damaged by general purpose cleaners.
Outdoor graphics should have tree sap, bird droppings, and other residue cleaned off regularly.
How Wall Type Affects Installation
The type of wall your graphic will be applied to greatly affects lifespan. A smooth surface has more for the wall graphic to adhere to, and therefore creates a better, longer lasting application. A professional wall graphics company will be able to accurately predict what will happen when it's time for the wall graphic to be removed. The possibility of damage on removal can also differ depending on the wall material the graphic is placed on. Most installers will come out to remove the wall graphic for you to minimize damage to the paint and wall.
Partner With a Certified Installer
At AP Corp, we offer worry-free vinyl graphics services for all of our clients in Maryland, DC, Virginia, and nationwide! Large scale graphics, such as full wall murals, require skill and expertise to be applied correctly to ensure the longest lasting solution, and we're here to help! Need information on what to expect with your custom wall graphic project? Fill out the form below and we'll get back to you, or contact us today.