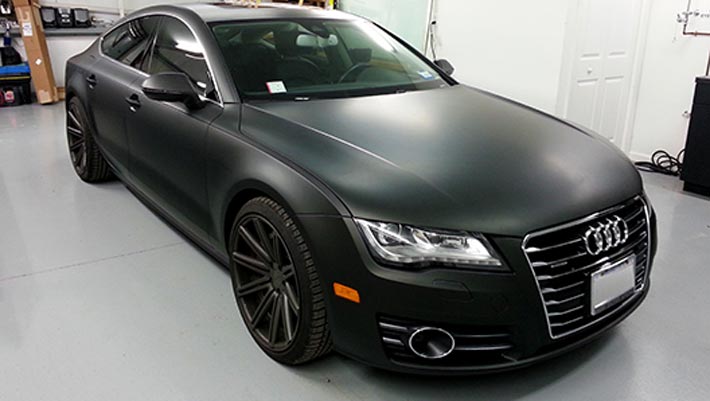 Will a vehicle wrap cover damaged paint on my vehicle?
If your vehicle was recently in an accident, you're probably looking for some ways to cover up the damage. While an obvious fix is through a body shop, those solutions aren't always the best fit for some drivers. Which brings you to us, wondering if a vehicle wrap will cover up damage to a vehicle. The answer? Well, it depends on a couple factors.
Vehicle Wraps Work Best After the Damage is Repaired
A vehicle wrap will be most effective in covering paint differences. Put differently, if you've repaired the damage to the body of your vehicle, and all that is left is primer, a vehicle wrap will work nicely. At this point, it is simply just replacing a paint service with a much better vehicle wrap.
Why Get a Vehicle Wrap instead of a Paint Job?
If your vehicle is getting collision repair work completed, why would you get it wrapped instead of painted? There are 5 main reasons to get a color change wrap instead of a paint job:
Vehicle wraps cost less that a new paint job.
Vehicle wraps can be removed and replaced.
Wraps provide a layer of protection against scratches.
Custom vehicle wraps let you get more than just a new color.
A custom vehicle wrap can be completed faster.
For more information on vehicle wraps and why they outperform paint jobs, get in touch with your local vehicle wrapping company today!
How the Type of Wrap Affects the Cover Up
When selecting the type of wrap you want, if your vehicle has a lot of small scratches and dings you may want to steer away from gloss. Gloss wraps accent the damage whereas a matte wrap helps to hide some of the scratches and dents. Your local Maryland vehicle wrap company will be able to walk you through your various options in this regard.
Custom Vehicle Wraps Hide the Damage in a Different Way
A unique approach is to embrace the damage in your vehicle's exterior. It's not that we're saying hold onto massive dents in your vehicle. More so, if you have a patch of bad scratch on your vehicle's exterior, or a couple dents, a custom vehicle wrap can embrace the blemish. Design elements which line up with scratch marks or draw the eye away from trouble areas can really help to hide these unsightly marks.
For more information on using a vehicle wrap to cover up vehicle damage, get in touch with AP Corp today. At AP Corp we are the leading installer of custom vehicle wraps in Maryland, DC, Virginia, and surrounding areas. Fill out the form below for more information.