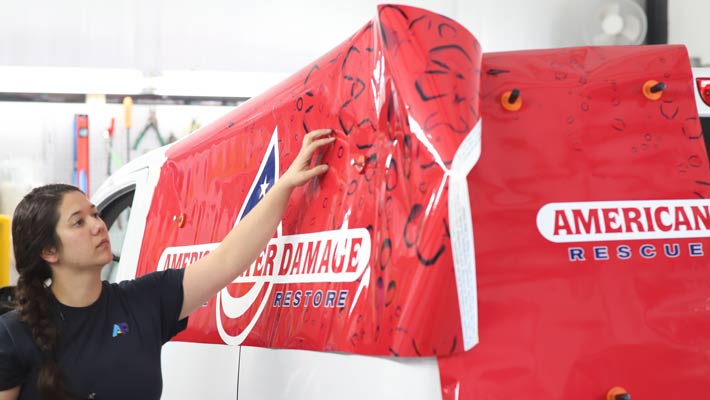 As tax time approaches, we start to look at ways to improve upon our tax returns. If your business purchased any vehicle wraps or graphics in the year 2019, you can use those as a tax deduction. Here's more on how vehicle wraps, and graphics, are tax deductible for your 2019 tax return.
Yes, Vehicle Wraps are Tax Deductible
The fine print: business vehicles are tax deductible—as is the advertising placed on them. The thing to consider is what type of vehicle you have—this will determine the amount of your deduction.
Tax Deductions for Work Vehicles
Work vehicles are those which are used primarily for work purposes. These types of vehicles are most commonly the ones used for advertising wraps, and they are also most eligible for the full tax deduction for any advertising graphics applied. So, if you get an advertising wrap applied to your work vehicle, save the receipt.
Tax Deductions for Personal Vehicles Used for Work
If you have an advertising wrap applied to a personal vehicle you also use for work; the wrap is tax deductible, but not in full. Ultimately, save this receipt too, as a portion of the expense can be tax deductible—just consult with your accountant to see how much.
For more information on vehicle classification, or to see the full tax law on whether vehicle wraps and graphics are tax deductible for 2019, check out IRS Publication 463 which answers these questions.
Yes, Vehicle Graphics are Tax Deductible
It's a minor difference in terminology, but smaller lettering jobs are also tax deductible. They fall into the same category as a full vehicle wrap, just obviously cost less. Regardless of the type of vehicle graphics you have installed, they should be tax deductible. Just again, save your receipt and show it to your business tax accountant.
Consult with a Business Accountant
Ultimately, if you're looking for tax advice it's best to speak to your local tax accountant. At AP Corp, we're in the business of vehicle wrapping, not accounting. Our accountants told us vehicle wraps are tax deductible—and clients have said the same. So, we're passing this along to you that YES vehicle wraps are tax deductible for 2019.
If you need help with your vehicle graphics, get in touch with AP Graphics today! AP Graphics specializes in a wide variety of applied graphics solutions for some of the nation's top brands. Whether it's full fleet graphics or a quick lettering job on the side of a local plumber's work van, we're here for you.