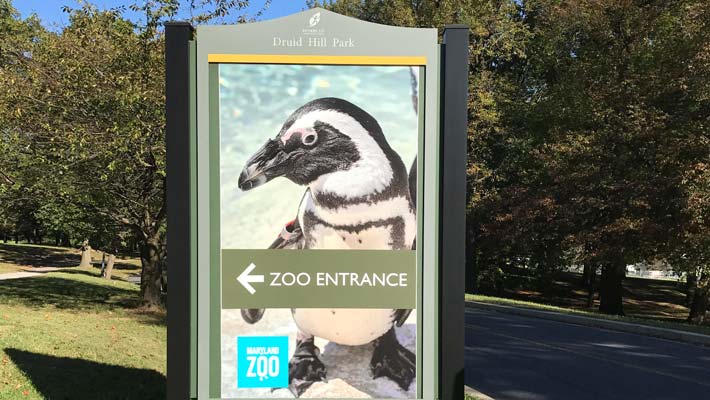 Do you have an old sign outside your shop in need of updating? Your choices boil down to two options: reface or replace your exterior signage. Here's what to consider with either of those options…
When to Reface Your Exterior Signage
Refacing signage helps you cut costs while also giving you the opportunity to update to your desired look. The benefits of this approach are in cost savings, flexibility in design (digital prints), and you can do more temporary branding. The downside to refacing signage is when the signage itself is too far gone to take on a refacing.
When it's Best to Replace Exterior Signage
When signage is too far gone, it's probably best to replace. We're talking about too many dings, dents, scratches, and blemishes that would mean that wrapping the sign itself will be ineffective. Wrapping a sign with these blemishes will not cover them up, but in fact make them really stand out from far away. So, when your signage is too far gone, that's when it's going to be best to simply replace your exterior signage.
Other Considerations When Updating your Exterior Signage
When updating exterior signage, there are a few other things to keep in mind.
How your branding and business will change in the next couple of years. If your 5- or 10-year plan includes a major change to your business, it makes more sense to go with refacing your signage.
What has caused the need for updating your signage? Address what caused the need to replace or reface your sign in the first place. For example, if you used an exterior graphics film which deteriorated after a couple years it seems the issue was the wrong film was used to begin with.
Partnering with an experienced sign shop. There are hundreds of sign shops within 50 miles of any business; how do you know which one is the best fit? Look up reviews of the businesses you're considering and be sure they are certified by the brands of films they plan to install and have experience that aligns with your needs.
For more information on exterior signage refacing, get in touch with your local sign shop today! AP Corp is a nationwide graphics printing company specializing in a wide variety of graphics solutions for your business, including signs.