Interested in a cost-effective way to upgrade the look of your boat? Boat transom wraps let you add your own personal touch to your boat, without breaking the bank. These types of custom vinyl boat wraps deliver the exact same look and quality of a custom wood transom wrap, but at a fraction of the price. Here's more on this type of boat customization, and more…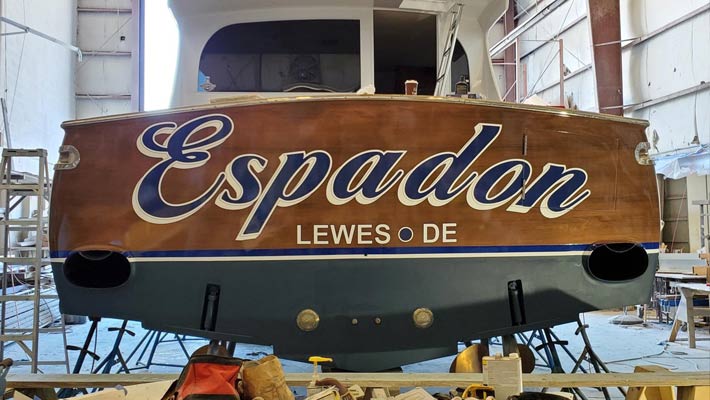 What is a Boat Transom Wrap?
A boat transom wrap is a custom vinyl wrap applied to the transom of your boat. Typically, those boat owners who come to us have a custom design printed to this piece of boat vinyl.
What is the most common transom wrap design? Wood grain with the name of the boat digitally engraved on top. Even up close, it's staggeringly difficult to tell the difference between a custom boat transom wrap and a custom wood transom. Check out the video below to see a boat transom wrap getting installed!
Boat Transom Wraps vs. Custom Wood Transoms
When it comes to comparing these two ways to customize your boat transom, there are obvious pros and cons. Here's what to keep in mind when evaluating if you want a teak transom wrap in Annapolis, MD or a real custom teak transom.
The Pros and Cons of a Real Wood Transoms
The main pro to a custom teak boat transom? You get real wood. The obvious advantage there is we can get our wood vinyl graphics to look almost identical to real wood, but it will never be the real thing.
The major con to real wood is that you end up paying upwards of $15,000 for the wood and gold lettering. You also have major limitations to the design of the finished product in comparison to a custom vinyl wrap.
The Pros and Cons of a Teak Boat Transom Wrap
With a teak transom wrap, you get the same look and feel of the wood at a quarter of the price. Materials, installation times, and designs all cost less. You also end up with a lot more design options and flexibility so your boat can really stand out.
Another major benefit to a boat transom wrap is the vinyl wrap ends up protecting the hull of your boat providing added benefit. And then if you ever get tired of the wrap or what to change it up, the wrap can be easily removed and replaced.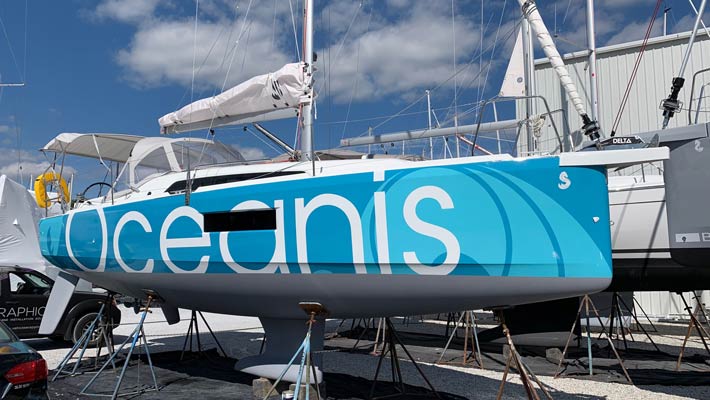 Other Boat Customization Options Available to You
In addition to wrapping your boat's transom, there are several other boat customization options available to you from AP Corp. Here are some of the unique ways you can customize your boat:
Boat window tinting. Also known as marine window tinting, this provides the same benefit of car tint. Window tint is a life saver for those long days out on the water because it blocks UV rays, sun glare, heat from the sun, and shields your interior from sun fading.
Full custom boat wraps. Want to wrap more than just your boat's transom? A full boat wrap can range from a simple color change wrap to a full custom boat wrap.
Paint protection film. Gel coat oxidation is awful and super annoying. The best way to prevent the oxidation of the gel coat is to encapsulate it up with wrap or PPF which doesn't wear off like waxing would.
Black brow masks. Make the brow of your yacht look like one long strip of windows. It's an impressive change to the look of your yacht and one which is sure to turn heads.
Custom yacht name graphics. Showcase the name and port of your yacht with quality, long-lasting vinyl graphics. Place it throughout the interior of your yacht, or in various locations on its exterior hull. Your options are limitless.
Looking for some unique ways to customize your boat of yacht? Get in touch with AP Corp today! Our tinting and vehicle customization divisions are here to help you with customizing your boat to fit your dream look.