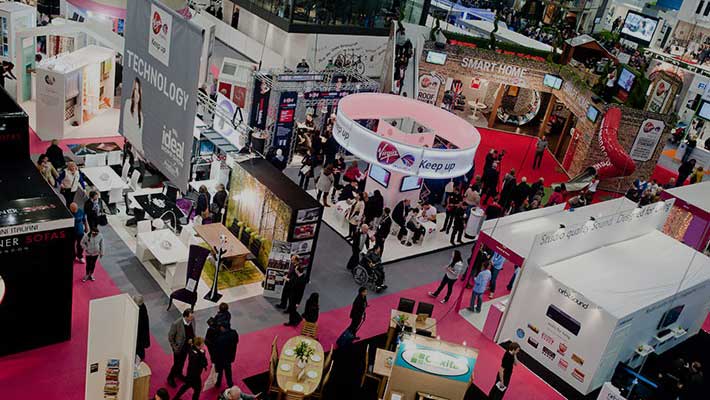 Is your trade show booth not as successful as you'd hope? It might be time to consider that your trade show booth is just not approachable. Perhaps your booth isn't eye-catching. Or maybe your booth doesn't seem welcoming enough. Whatever is causing the issue, here are a few tips.
Here is how to make your trade show booth more approachable, from someone who doesn't like to approach trade show booths:
Always be Smiling
You'd be surprised at the amount of unhappy looking people at booths. While being overly happy can be a turn-off to some folks, unhappy faces are a turn-off to nearly everyone. So which would you prefer? Not only does it make your booth seem unfriendly, it also makes your brand look bad. So show off your pearly whites and smile!
Provide a "Neutral Space" For Introverts
Most trade shows cater to extroverts. There's little space to move around in the booth, and what little space does exist doesn't always cater well to introverts. To combat this, create a 'neutral zone' in your booth where there is some literature or freebies which allow the grazers and introverts to check out your offerings and get comfortable before diving deeper into your booth.
Get a Banner that Actually Works
Here at AP Graphics, we know trade show banners and printed graphics. Being in this industry, we are overly critical of every sign or banner we run across. The amount of bad banners we see at trade shows truly astonishes us. If your banner doesn't include your name, your competitive advantages, and your products then it doesn't work. End of story. Get a banner which lets people know why they need to stop at your booth, or else they won't.
Make Your Booth Attractive
Dull, boring booths won't command attention and they definitely won't draw people into your booth. Use attractive colors, clear signage, and effective lighting. Similarly, you should put effort into creating your 'wow factor'; having something which separates you from every other booth at the show. Our next three list items should help spark your creativity.
Offer Contests and Promotions
One 'wow factor' item is a giveaway or contest. There are a sure fire way to draw people into your booth. Everyone loves to win, and giving away fun prizes instantly makes your booth more approachable. Make the instructions to enter simple and clear to draw in those who are less likely to enter.
Take your Tchotchkes Seriously
Trade show tchotchkes are serious business. Don't be the lame booth who is just giving out pens,  lanyards, or a key-ring! This is a waste of money, these items are not wanted. The money you spent to purchase these items could go to something much more effective: tins of mints, a desk drink coaster, or food and drinks.
For more tchotchke advice, check out our recent article on unique trade show tchotchkes.
Custom printed floor graphics
Get creative with the space you paid for and don't let an opportunity go to waste. Floor graphics are a unique way to grab someone's attention and lead them to your booth. Whether it be arrows, footprints, or your brand's logo, floor graphics are a unique way to make your booth more approachable.
For more help with making your trade show more approachable, get in touch with AP Graphics today! Here at AP Graphics we are a leading trade show booth graphic solutions provider. We have many years of experience in helping brands stand-out at their next trade show with attractive trade show banners and unique experiential designs.