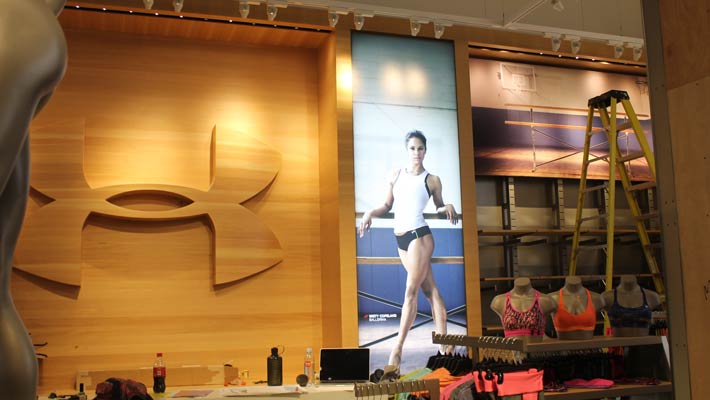 One of the newest trends in marketing is experiential marketing. With the term being thrown around so often, its definition can get a little muddled. So, what is experiential marketing? How can wall graphics help improve an experiential marketing campaign?
Experiential Marketing in a Nutshell
This type of marketing strategy is a lot like event marketing. The purpose of experiential marketing is to immerse the customer into something that goes beyond just advertising signage. Experiential marketing is an encounter with a brand the customer is going to remember. The word 'experience' is what this type of marketing is really all about.
How Wall Graphics Make it Really Work
In terms of experiential graphics, wall graphics really help sell the deal. It's not enough to put up signage, hire staff, etc. You really need to sell the deal; sell the full package. Wall graphics allow you to tie all the aspects together into an inescapable, immersive experience.
Other Aspects of Experiential Marketing Applied Graphics Help With
Applied graphics can help with your marketing efforts in other ways too. Adhesive backed vinyl graphics can be applied to literally anything.
Floor Graphics
Floors are an underused medium in the applied graphics space. With floor graphics, you can craft something unique. People are used to seeing graphics on walls and windows—but not floors.
Ceiling Graphics
Tie the whole piece together with a truly immersive experience. Add ceiling graphics to your marketing campaign for a one-of-a-kind, memorable experience.
Vehicle Graphics
Take your experiential marketing campaign on the road. Vehicle graphics will allow you to add a new and exciting layer to the marketing experience.
Graphics for Anything…
There are no limits to what you can do with vinyl graphics solutions. We have plenty of clients come to us with some rather unique items they'd like to wrap in their branding; helmets, sculptured shapes, and even ATMs. You name it, and we can find a way for you to apply your branding to it.
Need Help Implementing your Marketing Campaign?
At AP Corp, we have extensive experience in the applied graphics and marketing graphics space. Our employees each bring a unique skill set to the table which ensures every aspect of your project is complete on time and without incident. So, for help with implementing your marketing campaign, get in touch with AP Corp today!