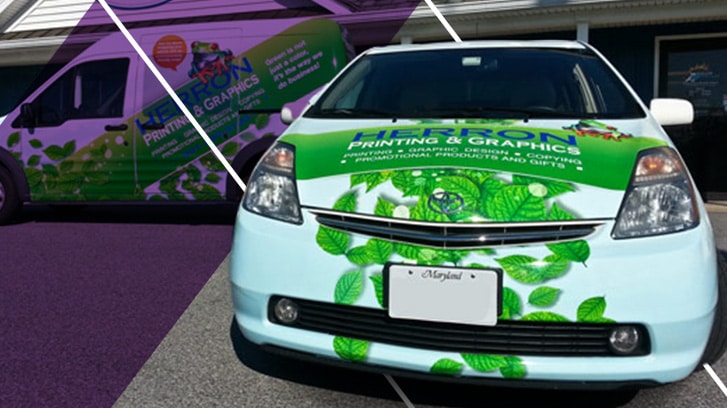 There are 33.2 million small businesses in the United States, 27.1 million of which are run by one person. Competition is fierce across many industries. As over 20% of small businesses fail in the first year, business owners constantly search for ways to promote themselves and stay ahead of the curve. Marketing your small business requires ideas that help you stand out.
Knowing how to advertise your business so your efforts reach the right audience and create positive impressions is vital to success. Still, finding unique ways to stand out to potential customers can be challenging. However, you can create a brand people recognize and trust with the right business marketing ideas.
A Quick Overview of the 4 Ps
As a business owner, understanding the marketing mix can help you develop effective business promotion ideas and prioritize your resources. The four Ps of marketing include the following:
Product: This includes what your business offers to your target audience and how it meets a need in the marketplace or provides an incredible experience.
Price: This is the cost of your product or service. Pricing your products has a significant impact on your overall success. It requires a good understanding of your target audience and their willingness and ability to pay for your product.
Place: This is where you sell your product and how you get it to your customers. Finding the right place to market and promote your product is essential to ensure it reaches your target audience.
Promotion: This is how you advertise your product or service. Developing advertisement ideas for your business is part of promotion, ensuring your message reaches the right people and encourages them to purchase.
Promotion can be challenging, as there are many small business advertising ideas, from traditional avenues like word of mouth and print advertising to innovative digital options like social media marketing. You might have a groundbreaking product, but they can't buy it if no one hears about it. Therefore, choosing the right advertising option for your business is critical to reaching your target audience.
To promote your product effectively, you must show people why they need it. Ask yourself the following questions to start creating an advertising strategy that works for your business, product and customers:
What's the best way to reach your target market? Are they active on social media, or do they prefer in-person options?
When is the best time to reach your target audience?
What advertising approaches will speak to your target audience?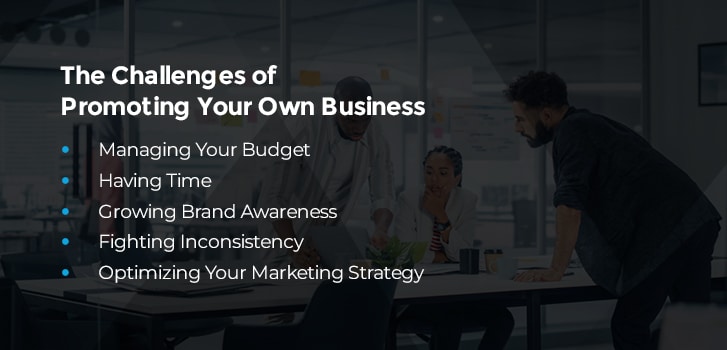 The Challenges of Promoting Your Own Business
Promoting your business can be incredibly rewarding but also comes with challenges. You'll have to overcome these
challenges to ensure your business succeeds, and knowing what they are can help you create a strategy to address
them. Some of the common challenges of promoting your own business include:
Managing Your Budget
Advertising costs can be prohibitive, even in the digital age. Advertising is time-consuming — someone must manage
your marketing efforts and ensure you stick within your budget. Doing it yourself could result in losing focus on
your product or service, and hiring an expert means additional costs. However you choose to structure your business,
creating a balance between expenses and results is essential for successful advertising.
Having Time
Business owners are busy people. Managing your time so you can complete all the necessary work can be overwhelming,
and essential tasks might become buried under all the paperwork on your desk.
Promoting your business is essential but adds to your ever-expanding to-do list. Your advertising should speak for
itself without you having to spend too much time ensuring it reaches the right people.
Growing Brand Awareness
When people know who you are, they're more likely to buy from you. Creating brand awareness helps you build trust
with your target audience and allows them to better associate your business with your products and services.
Building a unique personality for your business can be complex and ranges from choosing the right graphics and color palette to selecting
the perfect words for your mission and slogan.
Fighting Inconsistency
When a work emergency or priority project comes up, your marketing may take a back seat, especially if you have a
small team. While inconsistent messages may not affect you as a business owner, customers may have different
views.
Consistency is essential to build trust. When people see periods of inactivity, they're more hesitant to trust you
and may even forget your brand.
Optimizing Your Marketing Strategy
With limited time and resources, small and midsize businesses must see a return on investment (ROI) for their advertising efforts. It takes time and effort for your advertising to start showing an ROI, and you must track the results of your efforts, so you know what's working and what needs to change.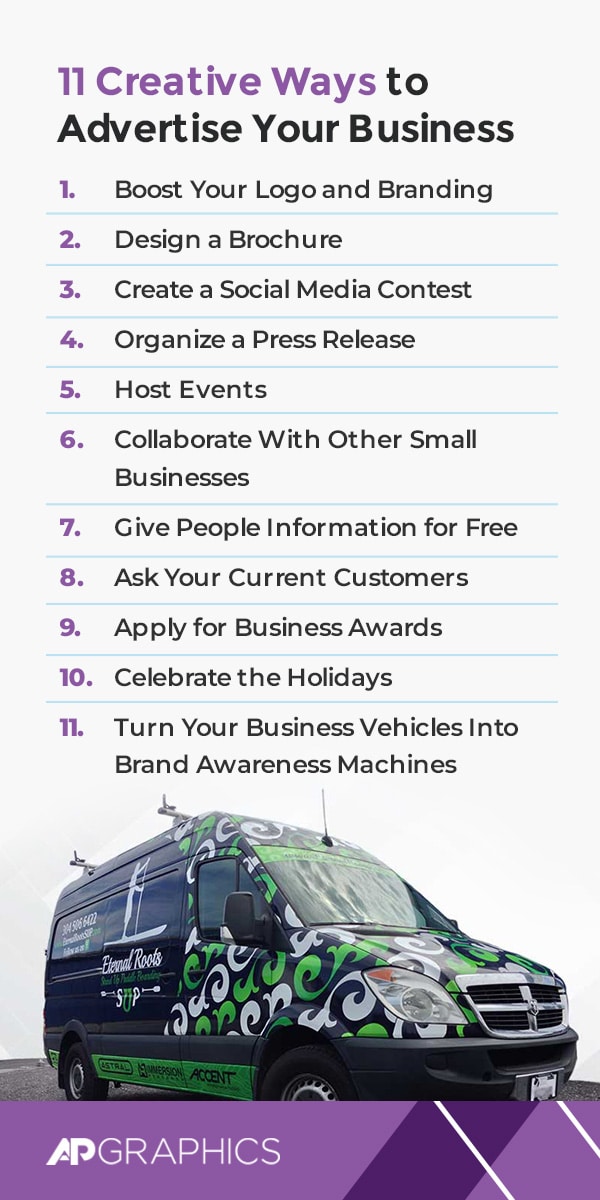 11 Creative Ways to Advertise Your Business
Every business is different, and your business advertisement ideas must work for you. The following ideas for advertising your business will give you a good idea of where to start, so you can get your name out there and maximize ROI:
1. Boost Your Logo and Branding
When they see your logo or company colors, people should know who you are. If they don't, they should want to learn more about what you offer. In other words, your graphics, colors and slogan should make a consistent impression on customers. When people remember your brand, it helps set you apart from the competition.
Your logo and branding should draw the eye and create a clear association in customers' minds with what you offer. Effective branding makes your business recognizable, builds trust and improves your advertising, so you can create cohesive advertising messages that reflect your brand identity and attract the right target audience. Refreshing your brand to appeal to people's emotions helps them feel connected to your business, creating loyal customers.
2. Design a Brochure
Brochures are another opportunity to get creative and provide people with a visual reference that makes your business easy to understand. You can hand out brochures in your area — they're also an excellent event tool. Ensure your brochure is exciting and visually appealing so people can learn more about what your business offers and how you can meet their needs.
3. Create a Social Media Contest
Almost 92% of businesses use social media for marketing. While there are many benefits of using social media as part of your advertising campaign, it's easy to get lost among the many other businesses with the same goals. Social media contests are an effective and fun way to get people to engage with your business. People love free giveaways and are often happy to enter a contest to qualify for one.
Ensure people have to like, share and tag friends to qualify so your business gets the maximum reach. Choose a prize that works with your budget, and consider partnering with influencers to boost your brand further. Try and link the contest to your product or service. For example, a dog dress-up photo contest would be an excellent way to target the right customers if you own a doggie daycare.
4. Organize a Press Release
When your business makes the news, you generate trust among your target audience. Public relations is an effective tool for business owners, and sending a press release to your local news outlets is quick and easy. Any time your business does something worth celebrating, draft and send a brief press release. You may get positive, cost-effective publicity.
5. Host Events
Giving people an opportunity to get together is an excellent way to spread the word about your business. Consider offering classes or gatherings specific to your product or service, like a fun run for a sports goods store. Decide what your goal is for your event, as you can also make some profit if you plan correctly.
If your goal is advertising, try and make it as cost-effective as possible for people to attend, if not free. Post about your event online and advertise it in high-traffic areas to get as many people involved as possible.
6. Collaborate With Other Small Businesses
Creating a partnership with another business could benefit you if you aren't direct competitors. You can get creative together and develop ways to boost each other's advertising, like co-hosting a webinar, offering customers discounts on each other's websites, sharing the cost of a trade show booth and giving each other shout-outs on social media. You can also set up in-person events together, sharing the costs and the attendees' attention.
7. Give People Information for Free
You can advertise your business and add value for potential customers simultaneously. Providing people with helpful content is an excellent way to position yourself as an expert and gain trust in your target market. Consider starting a blog or newsletter where you share resources, strategies and other helpful information with your target audience.
You can choose content depending on your business. Once an audience turns to you for information, you can use the platform to promote your products and services.
8. Ask Your Current Customers
Your existing customer base already has a relationship with you, which means they're connected with your initial marketing strategy. Reach out to them when you're developing new advertising ideas. Ask them how they discovered you and what they like and don't like about your current advertising, so you can use this information to inform your new advertising strategy. You can also incorporate their positive feedback into your advertising.
9. Apply for Business Awards
Winning an award is an excellent way to attract attention and elevate credibility. They give your business authority, which is instrumental in your advertising in the future. Do some research and try and find some local "best of business" awards you can enter. If you win, it gives your business invaluable publicity and authority.
10. Celebrate the Holidays
Holidays are a great time to boost your advertising and give something to your audience. Holiday sales, discounts and special deals can be an effective option for customers to purchase, as you create a sense of urgency. People love a good deal, and it's even better if you can deliver one with a theme. Consider creative marketing ideas for various holidays, including Valentine's Day, Halloween and Black Friday.
11. Turn Your Business Vehicles Into Brand Awareness Machines
Whether you have one company car or a fleet of business vehicles, you're sitting on a fantastic promotional idea for your business. A full-coverage, branded vehicle wrap makes a bold statement and ensures people will remember your brand. You get valuable exposure to a broad target audience every time you travel.
If you have a fleet of vehicles, adding graphics has an exceptional ROI, boosts your brand reputation and gives you a continuous promotion for something you only pay for once.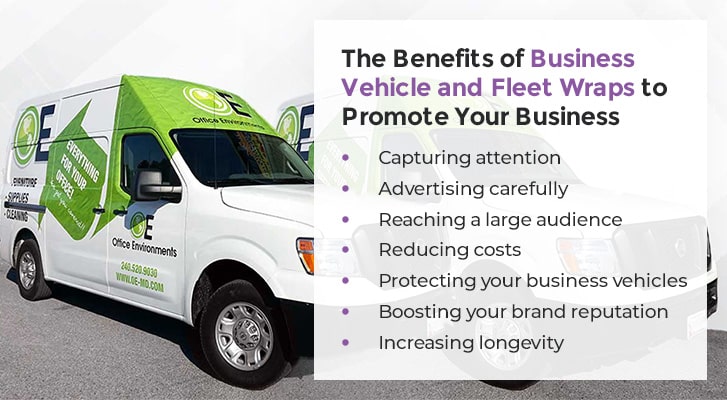 The Benefits of Business Vehicle and Fleet Wraps to Promote Your Business
Vehicle and fleet wraps are among the best ways to advertise a small business. You have a moving billboard that represents your brand and reaches many people. Some of the many benefits of vehicle wraps for small business advertising include:
Capturing attention: When sitting in traffic or waiting in a parking lot, you seek something unique to break the monotony. We're used to seeing vehicles in solid colors, so when faced with creative graphics and bright colors, we can't help but look. We're also desensitized to digital advertising and billboards, which means a vehicle wrap can command more attention than traditional alternatives.
Advertising carefully: We're exposed to between 4,000 and 10,000 advertisements per day, so ensuring your advertising is effective but not intense is key — no one likes being bombarded with flashy, aggressive marketing. Vehicle wraps are bold but not overly so, and people see them by chance, which makes them more genuine. Customers won't feel like you're pushing unwanted messages onto them.
Reaching a large audience: Vehicle wraps reach everyone, regardless of where they are. Your impact is extensive without having to pay per interaction.
Reducing costs: Many businesses pay for every impression, but vehicle wraps break this cycle. Once you've designed and installed your vehicle wrap, you're done. You'll continue to reach people at no extra cost by driving around.
Protecting your business vehicles: Wrapping your vehicles gives them an added layer of protection against nicks and scratches, helping you avoid paying for unexpected damage.
Boosting your brand reputation: Quality decals and branding help your audience connect with your brand. As they see your name every time you drive, they associate their needs with your services and become customers.
Increasing longevity: A quality wrap can last as long as eight years with the proper care. As your ad strategy changes, you can update your wraps to reflect those adjustments.
Boost Your Brand With AP Graphics Today