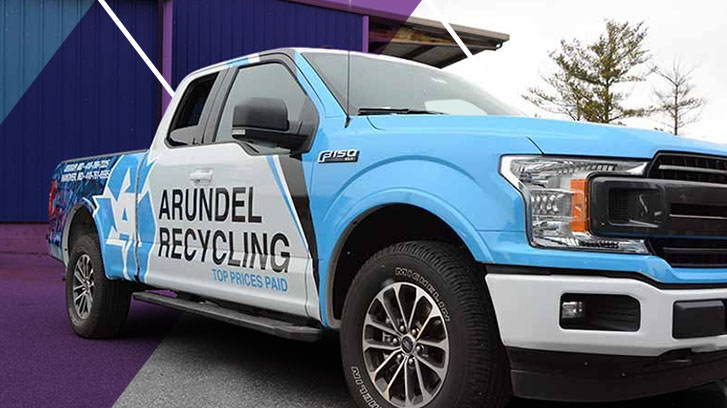 Vehicle vinyl wraps are a great business and personal investment because they're an effective alternative to custom paint jobs. The average vinyl wrap will last between five and seven years, depending on different factors. When certified and endorsed applicators service your vehicle, and you care for the wrap properly, you can maximize its life span.
How Long Does a Vehicle Wrap Last?
Vinyl wraps will last between five and seven years and possibly as long as eight years with the proper care. But you have to consider the factors affecting how long your vehicle wrap will last for a more accurate breakdown.
Factors that Affect Vinyl Wrap Lifespan
Everything from the wrap you pick to where you drive your car or your fleet impacts how long a wrap will last. The factors that may affect your vinyl wrap's life span include:
The wrapping quality: You want to ensure that the wrapping used is premium.
Who installed the vehicle wrap: The installation process for vinyl wrap is intricate and one of the most critical factors that goes into the life span. Selecting a professional graphic company that is 3M Certified and Endorsed and that offers the quality and precision you deserve is essential.
How frequently you wash the vehicle: Washing your car or business vehicles too often can impact your wrap's longevity.
How you wash the vehicle: Using damaging chemicals and detergents with alcohol is never a good idea.
Exposure to the elements: The sun, dirt, debris and stone chips can impact your vehicle's vinyl wrap.
The general climate: Hot and arid climates can cause the vinyl to chip, flake and fade, while extreme cold can lead to it losing its elasticity.
How to Maximize Your Wrap's Lifespan
Once you have installed a premium design on your car, you want it to last as long as possible. Like a fresh paint job, vinyl is at the mercy of various factors. But, if you choose a prominent installer that uses the finest quality materials and care for your car correctly, you can extend the life span of your vehicle's vinyl wrap.
1. Use a Reputable Wrapping Company
It's always good to know that the service provider is sufficiently certified and capable of performing their advertised service. Look for a company that is 3M certified and is a member of bodies such as The Professional Decal Application Alliance (PDAA) and United Application Standards Group (UASG).
2. Ensure the Materials Are High-Quality
Once you find a reputable company to wrap your vehicle, you can discuss the types of materials they use. Some vinyl materials are more durable than others, and you might wish to add a vehicle wrap protection — opting for these additions will contribute to the wrap price. Still, it will mean a better finish and added longevity.
3. Care and Maintain Your Vehicle Wrap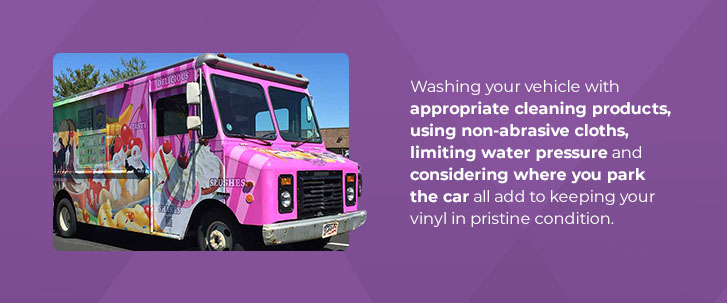 Proper care and maintenance significantly affect how long a car wrap lasts. Just like a thorough cleaning and polishing improves the life span of a neat paint job, you can also actively take care of your vinyl finish. Washing your vehicle with appropriate cleaning products, using non-abrasive cloths, limiting water pressure and considering where you park the car all add to keeping your vinyl in pristine condition.
How to Care for a Wrapped Vehicle
Caring for your wrapped car is equally as important as if it had a new paint finish. Certain practices are better suited to care for a vinyl wrap that helps ensure that it stays pristine for the long run. You want to get as much upfront protection as possible, including warranties, and once your car is finished, you need to implement best practices for cleaning and maintenance. Below, we break down key points for making your vinyl wrap last:
Choose vehicle wrap protection: With CeramicPro vehicle ceramic coating, your car is better protected against marring and weather elements.
Get overlaminate: It is always a good idea to ask if your vinyl has an overlaminate for added quality and protection.
Wash the vehicle by hand: Instead of going through the automatic at a car wash, wash your vehicle by hand and use a non-abrasive soft rag, detailing sponge or microfiber cloth.
Use non-abrasive cleaners: You want to avoid strong solvents or abrasive soaps.
Avoid pressure washing your vehicle: For your at-home car wash, opt for a garden hose instead of a pressure washer, which can stretch or strip the wrap.
Rinse the car thoroughly: Once you have cleaned your vehicle, it's always best to rinse off any cleaning residue and dry the surface with a microfiber.
Test all cleaners: When using a new cleaning detergent on your vinyl finish, test the cleaner on an inconspicuous area before applying it to the rest of the car.
Polish your car with non-abrasive polishes: Like with all cars, keeping yours shiny is essential, so ask your local vinyl installation company for polish recommendations.
Wipe up spilled materials: If something spills on your car, and if you can remove it without damaging the vinyl, try to get it rinsed and wiped off as soon as possible.
Avoid parking in the sun: Leaving your car in the sun is sometimes unavoidable — but, as often as possible, park in the shade or cover your vehicle to protect it from the sun.
Signs You Need to Replace Your Wrap
Having your vehicle wrapped for the first time is exciting. It allows you to make a bold personal or brand statement and attract the attention of those passing by. Over time, you will notice signs indicating that you need to replace or remove the vinyl wrap. Some of the reasons to reach out to your local vehicle wrapping company for a fresh wrap or removal are:
You want to rebrand.
The current design could use an update.
You want to sell the vehicle.
The wrap is faded.
There are signs of stains, flaking, lifting or abrasions.
Speak to the Certified Professionals at AP Graphics
At AP Graphics, we offer officially certified and endorsed vinyl wrapping services in Maryland and North Carolina and serve customers throughout the U.S. We aim to create bolder looks to transform your fleet or provide you with quality, unique aesthetics for your custom car. To begin, we'll talk about your budget and design needs, and once our proficient installers are at work on your vehicle, you'll be able to drive off in as little as three days.
If you have any questions about vehicle wrapping, such as the process and what to expect, we are here to help. When you are ready to take the first step, start the journey and get a free online quote today!