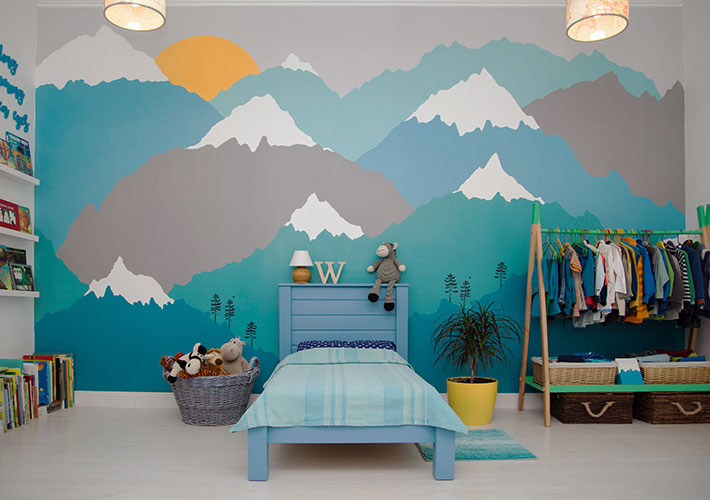 Looking for a unique way to make your kid's room pop? Wall murals offer a variety of options to suit your kid's taste or their room's overall theme. Here's all you need to know about installing a wall mural for a child's bedroom.
Where Can I Install a Wall Mural?
The first step is determining location. While a wall mural can go just about anywhere, you must first be sure your existing wall will work for your vision. For example, the adhesives and equipment used to install a wall mural on a brick wall vs. a glossy paint surface can differ. You need to check that your installer and the material you are using will work on the surface you want to cover.
Children's Room Wall Mural Ideas
So now that you have the wall picked out, what type of wall mural will you get? As a top wall mural design and installation company, we've done our fair share of kid's room wall murals. Here are some of the best ideas we offer up to clients who ask us for suggestions:
Make it Educational. Help your kids learn something new with an educational wall mural. Some ideas could include a map, a landscape of different animals, or something using the alphabet.
Swim Underwater. If you have an aspiring marine biologist, gift them an underwater wall mural for their bedroom. Don't forget to include a bunch of animals too!
Travel to a Forest. Kids love animals and a simple forest or jungle scene is a great way to showcase a variety of animals while also helping to encourage outside play.
Go with a Favorite Storybook. If your child has a favorite storybook or cartoon, share this with your designer. While they can't use trademark assets, they may be able to design something similar!
A Simple Backdrop. Sometimes, the best wall mural is a simple backdrop. Like a setting of clouds and a grassy field—something that can spark your kid's imagination.
Ways to Take Your Design to the Next Level
Wall murals are a perfect way to add some pop to your kid's room—but there are other options! In addition to a wall mural, you could also do one of the following:
Should I Hire a Professional Wall Mural Installer?
Now that you've decided on what type of wall mural or addition you'd like, how will you install it? The two options here are hiring a professional or doing it yourself. While the DIY approach will save you money, a professional will have access to the highest quality products and designs leading to a better, longer-lasting feature. In addition, an established wall graphic installer will stand by their work and replace it if there are any defects.