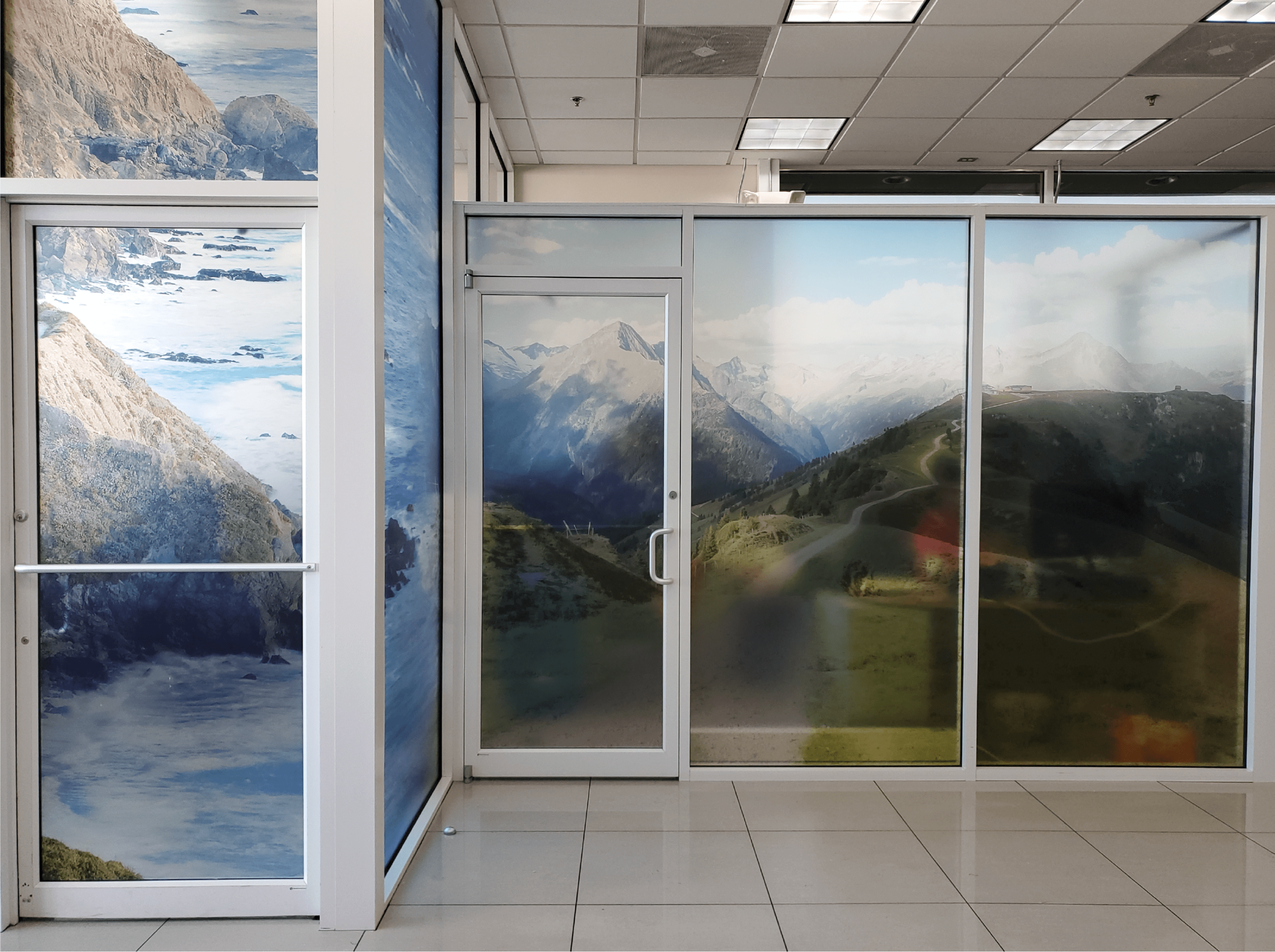 No one is more excited about the new Ford Bronco line than Koons of Silver Spring, and they have rolled out the red carpet. Last month, they had 26 panels of dusted crystal window graphics installed in their Food Showroom. The result was a fantastic transformation that they're going to want to replicate again and again. Here's how they did it.
The Plan
Koons of Silver Spring wanted to make their Ford Showroom an immersive experience for anyone that stepped inside, and they turned to AP Graphics for help. They wanted to illustrate all that the Bronco could do and requested custom-printed window film featuring the four seasons and a variety of terrains. These flat glass graphics were to be installed in a hallway to the right of the main lobby to a smaller, dedicated Bronco branded space. This new film would also add some much-needed privacy to the employee offices lining the hall as an added bonus.
AP Graphics decided to use a newly AP-approved dusted crystal window graphics film to make this installation pop. Walking into the Koons of Silver Spring Ford Showroom feels like walking into a place where dreams are made.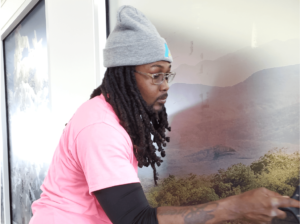 The Process
While looking for a local custom printed window film dealer, Koons of Silver Spring asked us about our products. They had been toying with different ideas and wanted to ensure they were doing what was best for their customers and staff.
Remember how we mentioned our new dusted crystal window film of choice? After discussing Koon's ideas and desires, we recommended that exact product. Of all the projects in our queue at the time, this one was the perfect fit for its first use.
Now, Koons of Silver Spring's Ford Showroom has something truly unique-custom window film that adds privacy and sends a powerful message.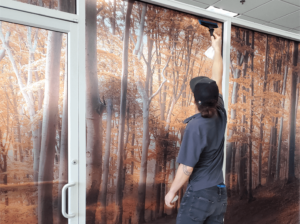 The End Result
As you read through this blog, you saw the final result of this installation yourself. The finished look is vibrant, attention-grabbing, and unforgettable. The only thing you can't see in the photos is how the film glows in direct sunlight. It was awe-inspiring. For a closer look at this incredible installation, visit our Instagram Reels.
What About You?
Are you looking for a new way to leave a lasting impression on customers while adding privacy to your space? AP Graphics is the most trusted provider of custom window graphics in the Maryland-Washington DC-Virginia region. To learn more about your custom window film options, give us a call.