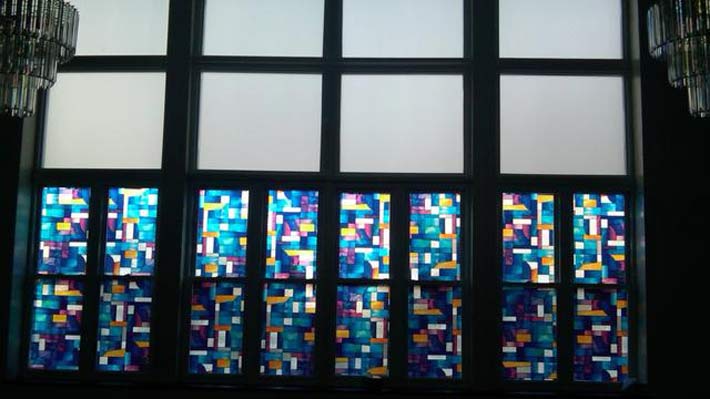 You've likely seen decorative window film used by other businesses to add to their branding or overall building design. While window graphics are used most often in commercial settings, they are incredibly practical for residential use as well! Is decorative window film the right investment for your home?
Read on to learn more about how decorative window film can improve your space.
UV Protection
Ultraviolet rays are not only dangerous for your skin but also cause your flooring and furniture to fade. Home window tint isn't the only option to keep harmful ultraviolet rays at bay. At AP Graphics, we install custom printed UV window film that filters the sun's rays all while having a decorative design of your choice. Our UV window films still allow in natural light and are a great option for rooms where you don't want to use bulky curtains and blinds.
Privacy
A decorative window film can add privacy to varying degrees depending on the design you choose. This can be especially useful in an area like a bathroom with windows where you would like to allow natural light, but don't want to be exposed to your neighbors! They're also helpful in rooms with unusually large windows that don't suit typical window treatments well. Decorative or frosted window films can also be used to add privacy to a glass shower without replacing the structural elements.
Cost Effective
Decorative window films are less expensive than commissioning custom glass designs that generally require replacing the windows. In addition, window film can be removed and replaced easily if it becomes damaged or you're ready for a new look. Custom glass work tends to be cumbersome and expensive to maintain and replace.
With our printing capabilities at AP Graphics, we can design and print custom designed decorative film in-house! This saves you both time and money compared to companies who outsource the design or printing portion of projects.
Customization
While we offer pre-designed frost and decorative films, we are also able to fully create a custom design for your windows. This will allow you to express your personal style in a very unique way. We can create everything from simple patterns to very intricate designs, such as traditional stained glass. If you can think of it, chances are we can design it!
AP Graphics is a leading nationwide installer of window films, so you can rest assured that your windows will turn out perfectly! We always look forward to custom designs and can give you a free quote for your project with the form below.