Working in commercial graphics, you end up fielding a lot of… unique requests for work. In truth, it's one of the things we love about our jobs here: finding creative solutions for unique projects and ideas. Over the years, here are the most unique items we've ever wrapped…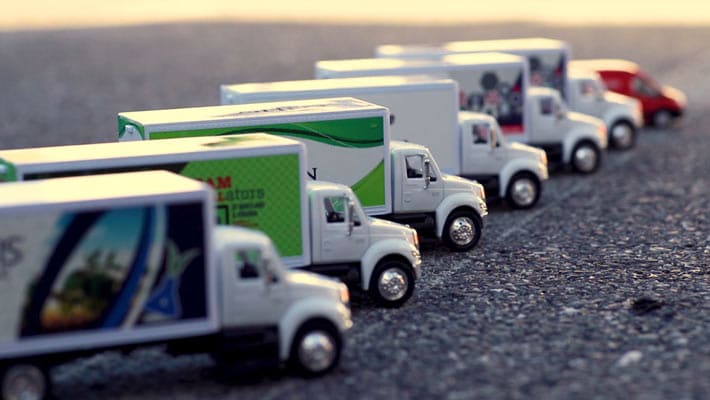 Tiny Truck Wraps
Here at AP Graphics, we are constantly looking for ways to give our clients a unique experience. In 2019, to show some of our fleet clients how much we appreciate their business, we sent them a unique gift. We wrapped scale replica trucks to match their fleet wraps and sent them to these fleet wrap customers as a gift.
Custom Maryland Countertop Wrap
When it comes to adhesive backed vinyl graphics, you can wrap just about anything. Countertops are no exception. In fact, countertops are a great use of commercial graphics, and when applied alongside our countertop protection film, end up lasting a good long while. So, when a customer asked if we could wrap their countertop with a Maryland flag design, we were there to help!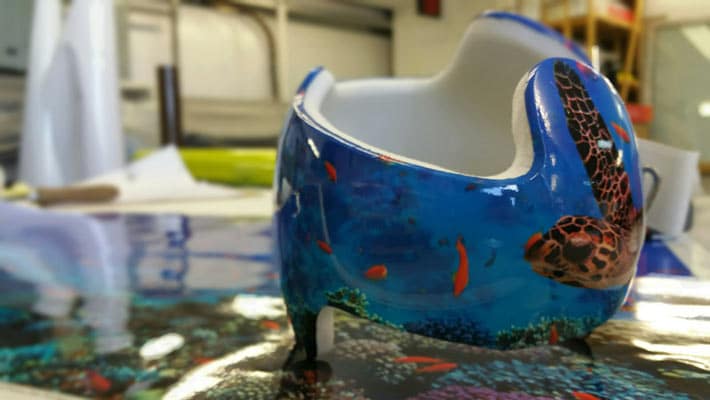 Cranial Helmets
An infant's head grows quite rapidly. This rapid growth can cause abnormalities if that growth is met with resistance, commonly when an infant prefers to sleep on one side of their head over another. To help fix this, doctors will prescribe what is called a cranial helmet (pictured above). These helmets don't come in very exciting designs; so, one year we helped a local family by wrapping their cranial helmets with some cool designs.
Custom Football Helmet Visors
Most helmets will come with a base option for tinting, but not many come with custom designs. We recently partnered with a large supplier of custom football helmet visors who give athletes a variety of custom designs options for their helmet visors. These custom designed helmet visor films show a design on the outside, but to the helmet wearer you can see clearly through the film.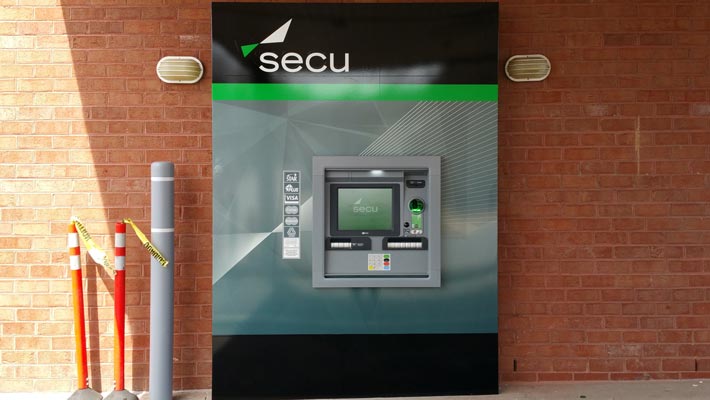 ATM Wraps for SECU
SECU Credit Union owns and operates many, many ATMs. When this credit union finds some ATMs in need of a face lift, or when their company wanted a rebranding, they contacted us for help with wrapping their ATMs.
A Coffin
Probably one of the strangest things we've wrapped was a more recent job. A funeral home wanted to wrap one of their coffins in a rose gold color change wrap so clients would know about a more affordable way to customize the look of their loved one's coffin. While it was a unique request, we completed the job for this client.
Recycling Trucks
In partnership with the DC Commissions of Arts and Humanities we applied unique pieces of art to 15 recycling trucks servicing the DC area. What made wrapping a garbage truck unique was not only the number of flies that snuck into our building, but all the intricate cuts and curves of the trucks themselves. While this fleet branding project took longer than most, it was certainly one of our most unique undertakings.
Wireless Access Points
A client wanted their Mist AP or wireless access points, to better match the color of the rest of their campus equipment. So, they brought these Mist APs into our shop and we wrapped them. The wrap we used changed the color of their wireless access points from white to a more satin dark grey. A much better look in our opinion.
Interested in seeing more of our most unique installations? Check out AP Corp's Instagram and YouTube pages for a variety of photos and videos showcasing the work we do every week. Or do you have a unique project you think AP Corp could help with? As the leading commercial graphics company in DC, MD, and VA we are happy to help. So, give us a call today!