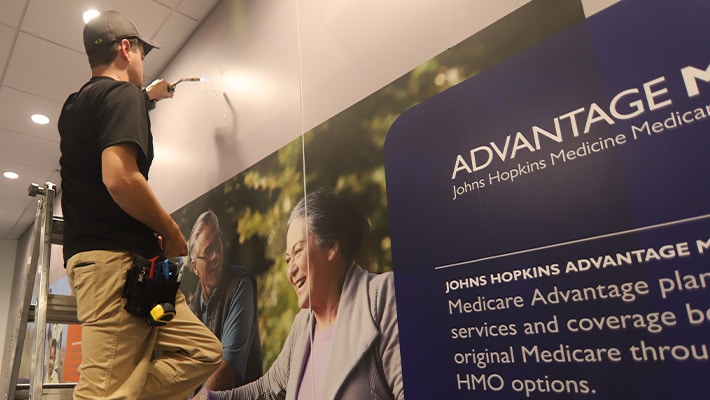 Many commercial graphics companies cut corners on their services; AP Corp is not one of them. We focus on delivering the highest quality end-product—no matter what. This strategy can contrast with a many other commercial graphics companies who find ways to reduce their costs through substandard materials, printing processes, and installation methods.
Here's why we don't cut corners, and what it means for you.
Why We Don't Lazy Print
Some print companies do what we call a 'lazy print'. This is essentially printing less coats or layers in any given print job to try and save on materials, time, and overall cost. While this can seem beneficial when looking exclusively at the cost of the project, you will certainly see the difference in the finished product. It's one of those you get what you pay for situations. 
Why We Don't Used Liquid Laminate
Liquid laminate is cheap, and it shows. This spray on laminate creates a thinner coat of protective laminate compared to the thick, clear laminate film we use at AP Corp. The importance of this difference is that a spray on liquid laminate will not provide the same long-lasting protection a clear laminate film provides. It also makes the installation of the vinyl graphic itself more difficult because the graphic is flimsier. Flimsier graphic strips lead to longer install times and more mistakes.
Why We Don't Focus on Speed Printing
Many print shops focus primarily on knocking out print jobs fast. We're not saying there is anything wrong with this business model so long as the customer is aware of what it means for them. A speed print shop's focus is on volume and finding ways to shave off $0.10 per print job because those savings really start to add up.
What is lost in this speed printing model is the focus on premium quality and quality assurance. The commercial graphics customers who work with AP Corp prefer to spend that extra couple of dollars to ensure their finished product looks the very best. These same customers also commonly prefer to know their project will not be held up by a misprint so deadlines can be met.
Why We Don't Pass on Training and Certifications
Plenty of companies you end up talking with may think certifications and training are pointless. We couldn't disagree more.  At AP Corp, we focus on continual training and individual improvement. We find continual training to be critical to delivering the best product to our customers. By establishing good habits in every installer, we can consistently handle the most complex of jobs for our clients.
For more information on commercial graphics in Maryland, DC, Virginia, and nationwide, get in touch with AP Corp today. We're happy to talk through our processes and more importantly why we don't cut corners and what that means for you.