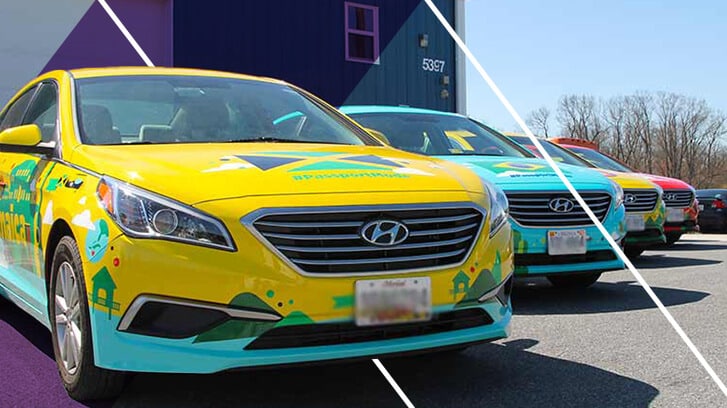 How much does it cost to get a truck or vehicle wrapped? The answer often depends on factors like the materials you use, how much of the car you plan to cover and how long the graphics may take to finish. Vehicle owners spend anywhere from a couple hundred dollars to more than a thousand dollars on wraps, and it's critical to understand why prices vary so widely. If you want to enhance your advertising efforts by wrapping your commercial vehicle, read on to understand the factors affecting costs.
Factors Affecting How Much It Costs to Wrap a Car
Wrapping costs often depend on materials, the intricacy of the design and the presence of custom-made pieces. Here are five common factors that affect vehicle wrapping costs.
1. The Length of Design Time
One factor determining the cost of vehicle wraps is the complexity of custom designs or graphics. Depending on what you are looking for, the design could take a long time to create, print and complete, increasing the overall price. Simple designs cost less, while detailed illustrations, custom pieces and realistic artwork vary from middle to high price points.
For example, advertising companies who want a graphic with their name and logo may pay more than those who want a simple color wrap. The cost of design time often depends on what you're looking for. However, professional graphic design and wrapping teams can help you pinpoint a design that fits your price point and budget. They'll factor in areas like payment for design team members and the effort of crafting custom pieces.
2. Size of Vehicle Wrap and Vehicle
The size of your vehicle is a significant factor in how much it costs to wrap a car or truck. For example, smaller cars with single side door panels and simple coverage with logos may end up on the low end of pricing, while high-end fees include a full vehicle wrap of a large bus or truck.
The size of your wrap will determine your cost as well. Full-body wraps tend to cost more due to the increased time spent gathering materials and designing graphics. On the other hand, partial or half-body wraps are budget-friendly and can increase the advertising appeal of your company car while saving money.
3. Materials Used
The materials used for a wrap affect the price of the installation. Vinyl material is most commonly used. However, different types of vinyl exist, which may alter your price point. For example, you can find vinyl material in glossy, matte, satin, metallic and carbon fiber variations. Depending on the vinyl quality, the wrap cost may also increase. For more durable vinyl materials, you'll expect to pay a little more to ensure the wrap is weather-proof, offers UV protection and reduces paint damage.
Some clients also like adding additional features or materials to their custom wraps. For example, some clients prefer vehicle wrap protection, a clear nano-ceramic liquid coating. Unlike sealant and wax, this coating repels weather and debris while adding a slight gloss finish. This additional application is not included in the base price of a vehicle wrap, as it is usually not necessary for most wraps.
4. Your Installer and Location
The cost of your vehicle wrap will also depend on your location. Certain states have higher prices which will affect your local pricing. It is pretty common in almost every industry. Similarly, the experience of your installer will affect the price as well, with the higher quality installation shops charging extra so they can pay to retain these skilled installers for their clients.
5. Custom Wrap Designs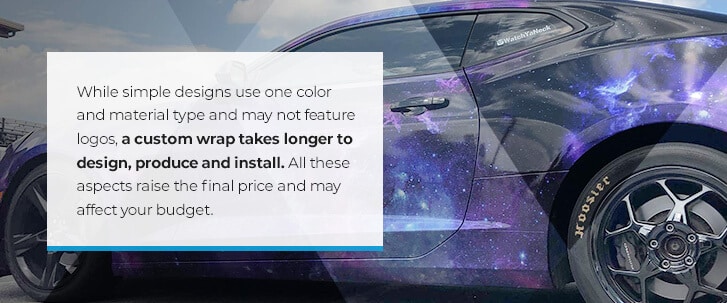 Custom wrap designs are one of the most significant factors that affect your final wrapping price. While simple designs use one color and material type and may not feature logos, a custom wrap takes longer to design, produce and install. All these aspects raise the final price and may affect your budget. Be sure to explore how much your specific design may cost if you plan to seek professional wrapping help.
Average Cost to Wrap a Car
Many companies and businesses with commercial vehicles wonder about the average cost of a car wrapping. So, how much does it cost to wrap a car? It all depends on the vehicle size, but you can expect to pay several thousand dollars per wrap for your car.
Price will also vary depending on full or partial wraps and whether you have a two-door or four-door vehicle. At AP Graphic, you typically pay between $250 and $3,000. The investment is well worth it, as many wraps are built to last a decade and can help bring more customers to your business.
Average Cost to Wrap a Truck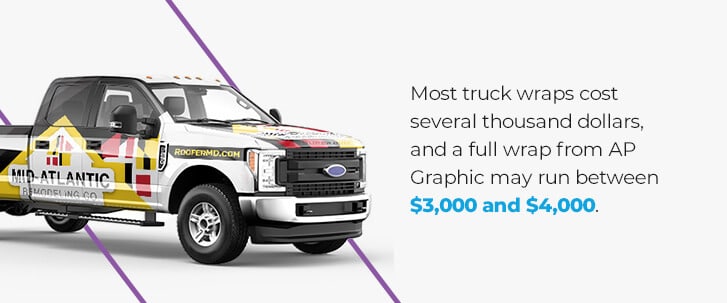 How much does it cost to wrap a truck? It all depends on your installation's size, wrapping size, material and design of your installation. However, you can usually expect to pay more for larger vehicles, as trucks are no exception. Most truck wraps cost several thousand dollars, and a full wrap from AP Graphic may run between $3,000 and $4,000.
Due to the size, you will even pay more for a small truck wrap than a large car wrap due to the size. While adequately fitting the truck wrap may be challenging, professionals can help you find the best solution for your needs.
Full vs. Partial Wrap Costs
So, how much does it cost to vinyl wrap a truck or car? What if you wanted to partially wrap your small convertible? Comparing full versus partial car wrap costs can help you determine what might fit your needs and fall within your budget. A full wrap always costs more than a partial wrap due to the cost of design and labor. At AP Graphics, partial wraps cost around $1,600, while full wraps fall around $2,500. If you want to opt for a decal, it will cost even less.
DIY Wrapping
Do-it-yourself or DIY car wrapping involves wrapping a car in vinyl on your own rather than consulting a professional. While it may be cheaper to follow a DIY vinyl wrapping process, it may often result in unwanted bubbles, ripples or tears. Without the proper tools or knowledge to install a car wrapping, you may use the wrong materials or damage your car paint. DIY wrapping may be cheaper short term, but spending a little extra for a professional installation to ensure the final product is up to standard is better.
Request a Free Quote From AP Graphics
AP Graphics is a one-stop shop for all your wrapping needs. We handle the entire process from start to finish, including custom graphic design, production, installation and removal. If you want the best answer for how much a vehicle wrap will cost, explore our services online. Call AP Graphics and ask for a free quote for your car, truck or unique vehicle. We offer free quotes for our clients who want to explore whether or not a wrap would fit their budget.
AP Graphics offers other services, including window tinting and commercial graphic design. We commit to exceptional service and continued growth for all our customers. Contact us today to speak to a representative or request a quote online.