Wall Coverings for Offices
Wall coverings offer you the flexibility and functionality a modern workplace deserves at a price point you will love.
From communal areas to private offices, wall coverings are extremely versatile. Created using the industry's best vinyl materials and printing technology, today's custom-printed wall coverings are a perfect fit for any room. Whether it's refinishing a tired wall with DI-NOC architectural film, or it's a custom-printed office wall graphic, AP Graphics is here to help you discover the solution that best fits your needs.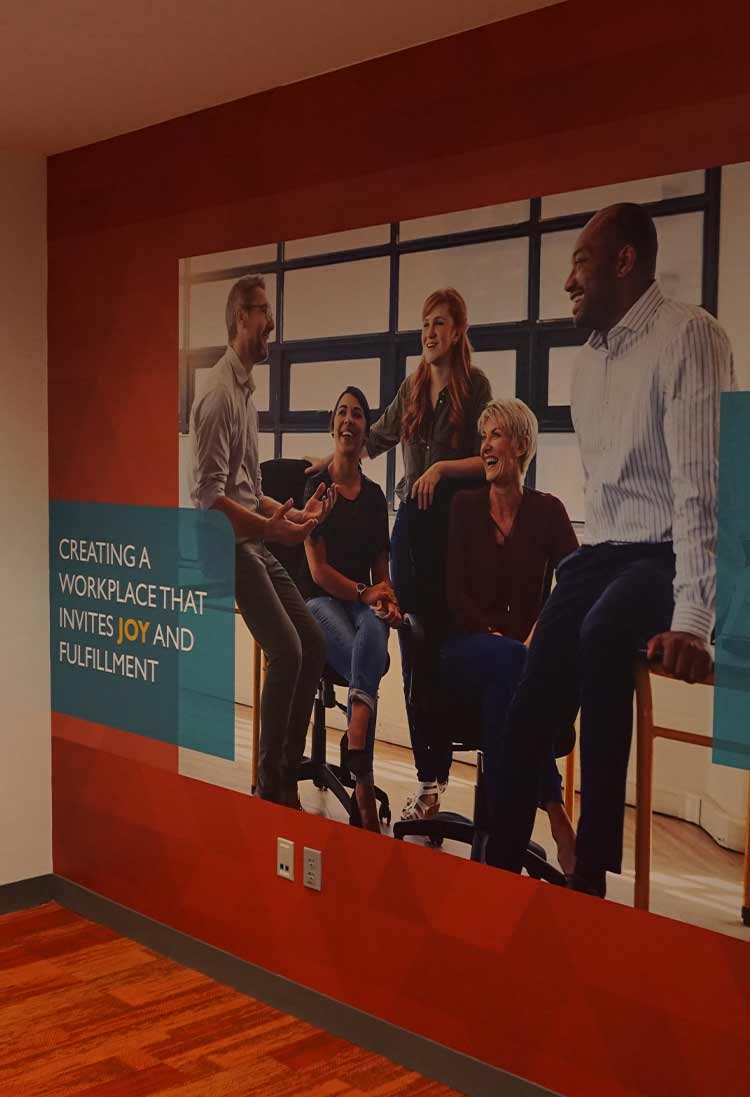 Awesome company that takes a lot of pride in what they do!
Jessie S.
Branded Look
Your office is an extension of your company's brand. Employees and potential customers will get a good feel for who you are with branded office wall coverings.
Budget Friendly
A vinyl office wall covering is the most cost effective solution. Whether it's refinishing architectural elements, or adding a wall mural, vinyl is the most price conscious.
Fast Install / Remove
Vinyl office wall coverings go up quickly and quietly for minimal downtime and no distractions. They can be quickly removed and replaced if you want a change as well.
We work with the biggest names in the industry to provide you with lasting, flawless, warranty-backed installations—guaranteed.
No matter your location, AP Graphics is at your service.
When your office needs a face lift, trust in the proven experience of a nationwide provider who has handled the largest brand's most complex projects with a personal touch.
No matter where you are, AP Graphics is at your service.
National, professional graphics company that can handle the complexities of your project with the personal touch you need.
Ready to turn some heads? Lets do this.
We've done countless office wall coverings, so this is like second nature to us. But if this is your first time, we'd love to be able to explain the AP process that makes it super easy for our customers. Interested in hearing more? Lets get started today!
You May Also Like…
Clients like yourself researching office wall coverings often also request information about these products.
Tell Us About Your Project
Are you ready to take the next step in your company's branding? Fill out the form below so we can reach out and discuss what you are looking for.
Looking for tinting services like commercial window films or home tint? Visit our sister company AP Tinting.