Vehicle Wrapping Feature: Terrapin Copier
Terrapin Business Systems provides local businesses throughout Maryland with new and refurbished office technology to accommodate customers printing, scanning, copying, faxing and document management needs.
Why a Vehicle Wrap?
Terrapin Business Systems wanted to stem away from a cliché printer design that's expected with a traditional advertising vehicle wrap. Instead they decided to use a terrapin as their eye-catching design to ensure brand recognition wherever they went. With perfection in mind, Terrapin Business Systems even went as far as purchasing a Volkswagen Beetle to achieve the shape of the turtle.
Design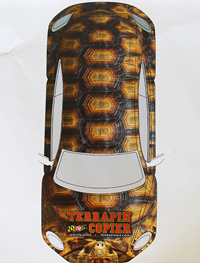 VP of the division, Chris Fong, worked with the client throughout the entire design process to ensure that the vehicle looked as close to a Maryland Terrapin as possible. In order to do this, Chris needed to use 360-degree imagery of the fierce reptile.
Unfortunately, there weren't stock images that could achieve the desired look so Chris scoured the web to come up with 35 different images of various types of turtles. With the help of Adobe Photoshop, Chris was able to manipulate the images to create a cohesive design.
Challenges
Unlike most vehicle wraps, Chris had an audacious vision that would only work if the sides were seamlessly blended, an approach most companies avoid due to its high level of difficulty.
When designing on a template, you are working on a flat, 2-dimensional surface. During this process you can line up the graphic elements on the corners of vehicles without having to worry about the vehicles 3-dimensional shape. However, once you are installing the vinyl, the shapes and curves of the vehicle effects how the design is ultimately applied to it.
Installation
For this specific installation we used the HP 3MIJ180CV3 to print on the 3M8518 laminate. This laminate lasts a lot longer than most vinyl's and has a nice finish to it.
Whereas most vehicles would be a walk in the park, Chris made sure he met with project coordinator, Devon McAndrew, and Installers, Travis Johnson and Mike Lawson to discuss the challenges they would face while wrapping the VW Beatle. Chris even started the installation to ensure the process went as smooth as possible.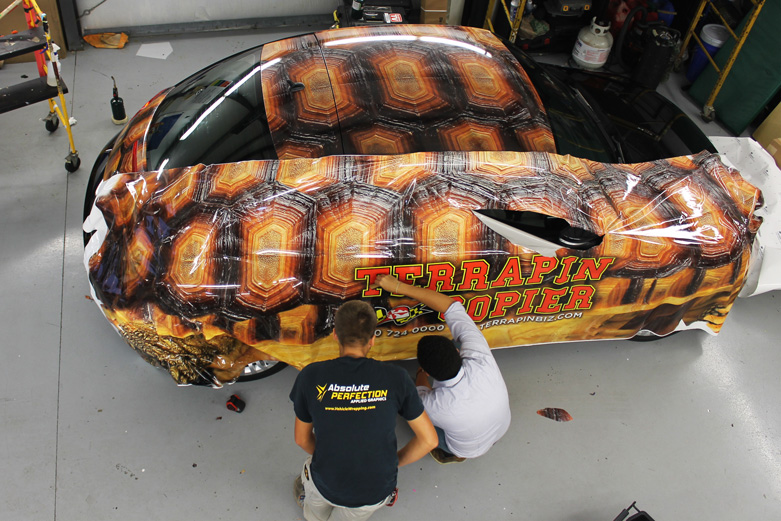 After the Terrapin Copier had left the shop, Mike and Travis were able to reflect on one of the more difficult wraps they've done in a while.
Mike Lawson said, "We had to make sure everything went in exactly the right spot. The nose on the VW sign, the legs on the fenders. We had to adjust knowing that we had a very curvy vehicle and a very flat piece of vinyl to work with."
"Difficulty out of 10? I'd have to say an 8," said Travis Johnson. "Making sure the roof lined up with the trunk and also matched the perforated window film on the rear windshield was challenging, but we made it happen."
Conclusion
The flawless design and impressive installation made this wrap special, so no matter if you are driving down the interstate or are parked at your local hotspot, this fierce terrapin will be hard to miss.
If you want to take your brand mobile, call a vehicle wrapping specialists at (866) 390-6790, or Get a FREE Quote!