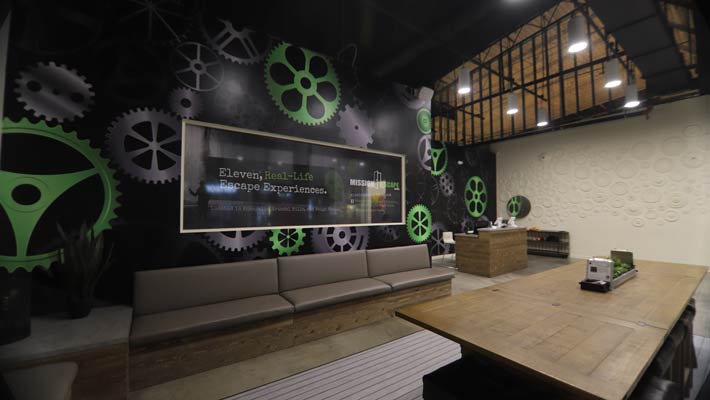 The Quick Read
Winning at an escape room challenge is all about teamwork. Here at AP Corp, we bring this attitude to every single project we work on; our work with Mission Escape Room was no different. Mission Escape Room wanted to find a way to not only drive attention to the exterior of their establishment but needed something which would draw people inside as well. The perfect solution was installing window graphics and interior wall graphics that would work together—as a team—to command attention.
Mission Escape Room
With escapes rooms in Arundel Mills, Annapolis, and Gambrills, MD, Mission Escape Room is a leader in experiential entertainment. They provide a variety of escape room experiences for groups of all sizes; from a couple friends to a large company teambuilding event. The goal of an escape room is to solve puzzles and riddles using clues within the room to help you escape from that room. What is the best way to escape an escape room? Teamwork!
This focus on teamwork is something AP Graphics identifies with at a cellular level. We constantly work across all departments to solve complex problems for our customers. As our C.O.O. Tim Cooke likes to say, "Teamwork Makes the Dream Work!" It is this dedication to creative results through teamwork that lead Mission Escape Rooms to team up with AP Graphics for their wall and window graphics.
The Problem
Getting people to walk into your store is difficult. Historically, Mission Escape Room used bright colors to draw attention. This time around, Mission Escape Rooms wanted to figure out a creative way to guide people inside. In addition, they wanted to give customers a truly memorable experience in the lobby, before they even entered an escape room. Something they'd talk about with their friends.
The Solution
When AP Graphics visited with Mission Escape Rooms, we presented them with a couple ideas. When it comes to graphic design, there are an infinite amount of ways you can approach a project. The trick is finding a solution that works. For Mission Escape Room, we selected a unique cog using 3M vinyl wall graphics as well a unique Avery printed UV window film for a truly memorable touch.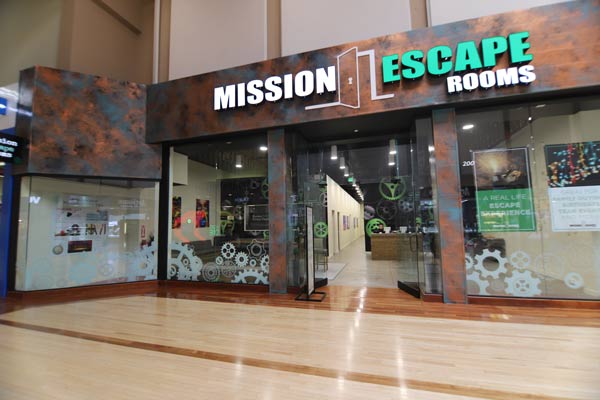 Tying the Whole Project Together
Time and time again our customers tell us it is our ability to see a complex problem and visualize the right solution. With Mission Escape Room, one problem was trying to lure people inside. By applying window graphics which matched the interior wall graphics we were able to provide continuity as well as draw customer's attention inside.
"Working directly with Chris the VP was a great experience. Also, the Installation and turnaround time. The leadership team with AP has been the best throughout the process."

– Jason Cherry of Mission Escape Room
Results that Created Real Excitement
Mission Escape Room was also looking for a way to build excitement and add some real fun to their wall graphics. The wall graphic had a space where a hole was cut so customers could "take a peek" at a live escape room. Jason Cherry of Mission Escape Rooms explained it as: "our customers could see into the rooms and watch what other people were experiencing which created a lot of excitement in our building and with our customers." These are the types of experience people go and tell their friends about.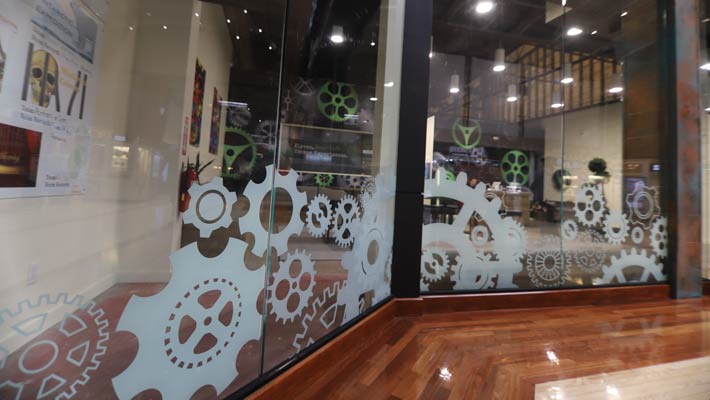 Wrapping Up
The work we completed with Mission Escape Room provided their customers a truly unique experience. Applied graphics are a versatile and affordable way to spruce up your business space in a unique and classy way. Mission Escape Room achieved this for their location and then some!
Interested in hearing more about applied wall graphics and window film graphics and how they could help your business? Get in touch with AP Graphics today!
AP Graphics is the nation's leading installer of wall graphic solutions for businesses, homes, and vehicles. Our technicians are trained and certified through the industry's largest and most prestigious brands. For more information on how we can solve your window problems, give us a call today or fill out the form below!